Ideal Upsell – 8 Products That Provide Peace of Mind Safety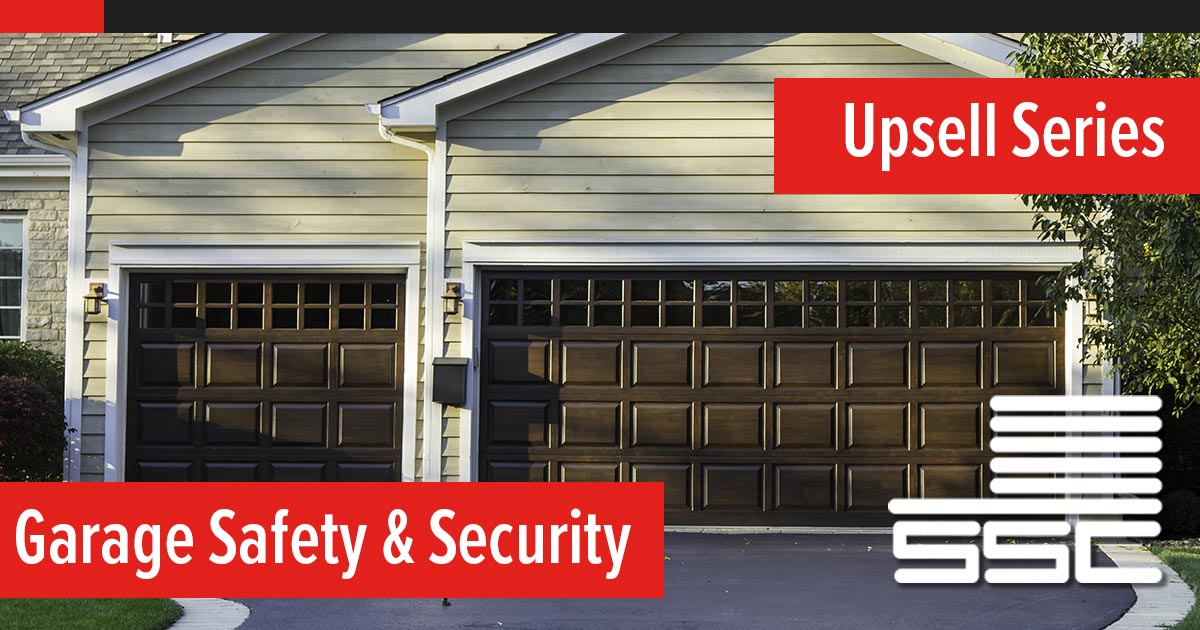 As an experienced garage door technician, you understand that the safety and security of your clients' properties are paramount. Whether you're installing a new garage door or performing maintenance on an existing one, ensuring that your clients feel safe and protected is a responsibility that shouldn't be taken lightly. One effective way to enhance your service and provide unparalleled value to your clients is by offering a range of safety products as upsells. In this blog, we'll explore the world of upselling safety products, discuss their importance and benefits, and provide a curated list of essential items that can provide safety and peace of mind.
The Role of Safety in Garage Door Installations
When it comes to garage door installations and maintenance, safety should always be at the forefront. A faulty garage door system can pose serious risks, ranging from accidents and injuries to unauthorized access. By prioritizing safety, you not only protect homeowners but also establish a reputation for reliability and professionalism. Upselling safety products is more than just a business strategy it's a commitment to the well-being of homeowners and their property.
Upselling Safety: A Win-Win Strategy
Upselling safety products isn't just about increasing revenue; it's a strategy that benefits both your garage door installer business and homeowners. By offering safety solutions, you're adding tangible value to your services, giving homeowners the assurance that their investments are well-protected. This approach can lead to long-term relationships, repeat business, and positive word-of-mouth referrals. As a result, your reputation as a trustworthy and safety-conscious garage door technician will grow, setting you apart in a competitive market.
Essential Safety Products for Garage Door Installers
Wireless Keypad Entry Systems: Offer your customers the convenience of wireless keypad entry systems, allowing authorized access without the need for additional keys. These systems enhance security while streamlining access for homeowners.
Photoelectric Sensors: Provide an additional layer of safety with photoelectric sensors that detect obstacles and prevent accidents. These sensors ensure that the garage door system stops or reverses if an object is detected in its path.
Battery Backup Systems: Guarantee uninterrupted operation during power outages with battery backup systems. These systems ensure that homeowners can still access their garage even when the power is down.
Rolling Code Technology: Elevate security levels with rolling code technology that prevents code duplication, making unauthorized access nearly impossible. Offer advanced security features that reassure homeowners about the safety of their property.
Motion-Activated Lighting: Enhance visibility and deter potential intruders with motion-activated lighting systems. Homeowners will appreciate the increased security and convenience these lights provide.
Emergency Release Mechanisms: Highlight the importance of emergency release mechanisms that allow manual operation in case of entrapment or power failure. These mechanisms instill confidence in your customers.
Smartphone Integration: Introduce customers to the world of smartphone integration, enabling them to monitor and control their garage doors remotely. This modern feature enhances both convenience and security.
Security Cameras: Offer peace of mind by suggesting the installation of security cameras that monitor garage door activity and its surroundings. These cameras provide an added layer of security for homeowners.
Effective Communication and Upselling Techniques
When upselling safety products, effective communication is key. Take the time to educate homeowners about the benefits and importance of each safety product. Tailor your approach to their specific needs and concerns and address any questions they may have. By showcasing your expertise and genuinely caring about their safety, you'll instill trust and confidence in your recommendations.
Showcasing Success Stories
Share success stories of customers who opted for safety product upsells and reaped the benefits. Highlight specific instances where the use of safety products prevented accidents or security breaches, reinforcing the value of these products. These stories will not only inspire confidence but also demonstrate your commitment to safety.
Prioritizing Peace of Mind Safety
Incorporating safety products into your offerings as a garage door technician is a step toward providing exceptional service that goes beyond the basics. By upselling safety products, you're ensuring that your customers have peace of mind, knowing that their properties are well-protected. As you continue to prioritize safety, you're not just installing garage doors, you're building relationships on trust, reliability, and a shared commitment to safety. Your dedication to enhancing the well-being of your customers sets you apart as a leader in the garage door industry, ultimately contributing to the growth and success of your business.