In 1962, industry pioneer Clarence Veigel, envisioned providing top quality products, along with superior customer service. After four generations, Matt McAlear continues this mission of unequaled service through innovation. Today, SSC boasts an impressive product offering and an exceptional customer experience for the garage door industry. To better serve our customers, SSC also operates service centers in Orlando, FL, Detroit, MI, Chicago, IL, Dallas, TX, Phoenix, AZ and Annapolis, MD, along with a second spring manufacturing facility in Visalia, CA.
SSC takes pride in being one of the overhead door industry's leading suppliers. As we move forward, we continue to offer the highest customer experience through education and expert advice, while supplying our customers with an extensive product selection.
Clarance Veigel publishes the first Torsion Spring Rate Book
Clarence establish Service Spring Corporation
Patrick McAlear becomes 2nd generation President & Marilyn McAlear becomes CFO at SSC.
SSC becomes the first company in the industry to offer a garage door spring warranty
The Guaranteed Spring Shipping Program is launched
We release Solutions Spring Engineering software for desktop computers
Mike McAlear becomes the third generation CEO
SSC opens a second spring manufacturing location in Visalia, CA
SSC launches the Solutions Mobile Engineering app for Apple and Android Devices
SSC received the IDA Industry Member Award
SSC launches the Solutions Education online training platform for professional garage door dealers and installers
SSC opens its 1st Service Center in Orlando, FL
Matt McAlear becomes the fourth generation CEO
SSC opens 2nd & 3rd Service Centers in Detroit, MI and Chicago, IL
SSC opens 4th Service Center in Dallas, TX
SSC opens 5th Service Cener in Phoenix, AZ
SSC opens 6th Service Center in Baltimore, MD
SSC opens 7th Service Center in Indianapolis, IN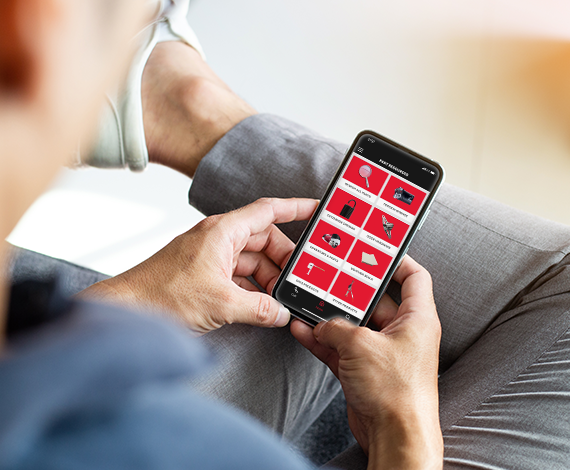 A powerful resource for product details and information while you're on any job.
The SSC Part Resources App puts the extensive SSC product line in the palm of your hand. Search for parts, see product images and detailed descriptions, view owners manuals and sell sheets, watch informative product and how-to videos. Available for Apple and Android devices, the SSC Part Resources App is your on-the-go resource for garage door springs, garage door openers and overhead door replacement parts.