* Powder coated springs adds an additional 1-3 days depending on quantity ordered. Call our sales team for exact time frames. 
same day if before 1:00PM
Pick-up, UPS Ground and Air orders placed before 1:00PM and Truck orders placed before 11:00AM follow the above rules.
* The time is the time zone in which the Service Center is located. 
** Please refer to the map below to identify the regions eligible for 1-day shipping near our Service Center.
Please note that our lead times may be subject to adjustments in the event of unforeseen carrier issues or staffing challenges that could potentially lead to delays. If you need a precise lead time contact our sales team at 833.772.3667.
Introducing a new era of efficiency and speed in the industry! At SSC, we take immense pride in our unbeatable lead times that will revolutionize your business. When it comes to delivering top-notch products and services, we understand that time is of the essence. That's why our dedicated team has meticulously fine-tuned every aspect of our operations to ensure lightning-fast turnarounds that will leave your competitors in the dust.
With our state-of-the-art manufacturing facilities and cutting-edge technology, we have streamlined our processes to deliver unmatched lead times that set us apart. From the moment you place your order, our agile and highly skilled team springs into action, working around the clock to fulfill your request promptly. You can count on us to deliver your order with incredible speed, helping you stay ahead of the curve and seize new opportunities.
But it doesn't end there! Armed with an in-depth understanding of the industry and an unwavering commitment to customer satisfaction, our sales team is the driving force behind our success. Our team is equipped with the know-how to address your unique needs and provide tailored solutions that exceed your expectations.
When you partner with SSC, you'll experience firsthand the power of our lightning-fast lead times and the invaluable support of our sales team. Together, we'll keep your business running smoothly.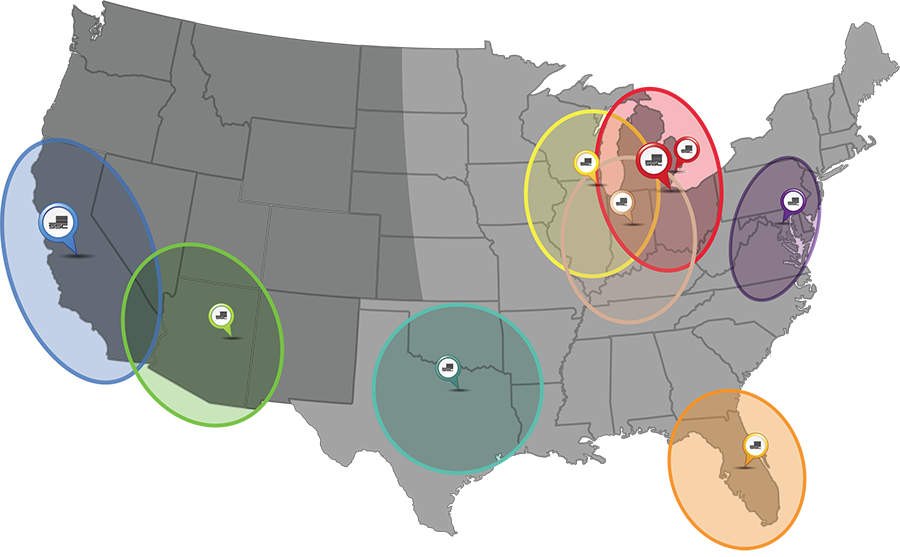 FAST SHIPPING & SAME DAY LOCAL PICK-UPS
Experience the difference of unequaled service through innovation
Our manufacturing and distribution locations are strategically located around the United States to get your order to your delivery dock as quickly as possible. Our Service Centers offer same-day local pick ups, and 1 day shipping. Having garage door springs and replacement parts delivered on time is our top priority and crucial to keeping your business operating.