Ideal Upsell – New Technology Garage Door Openers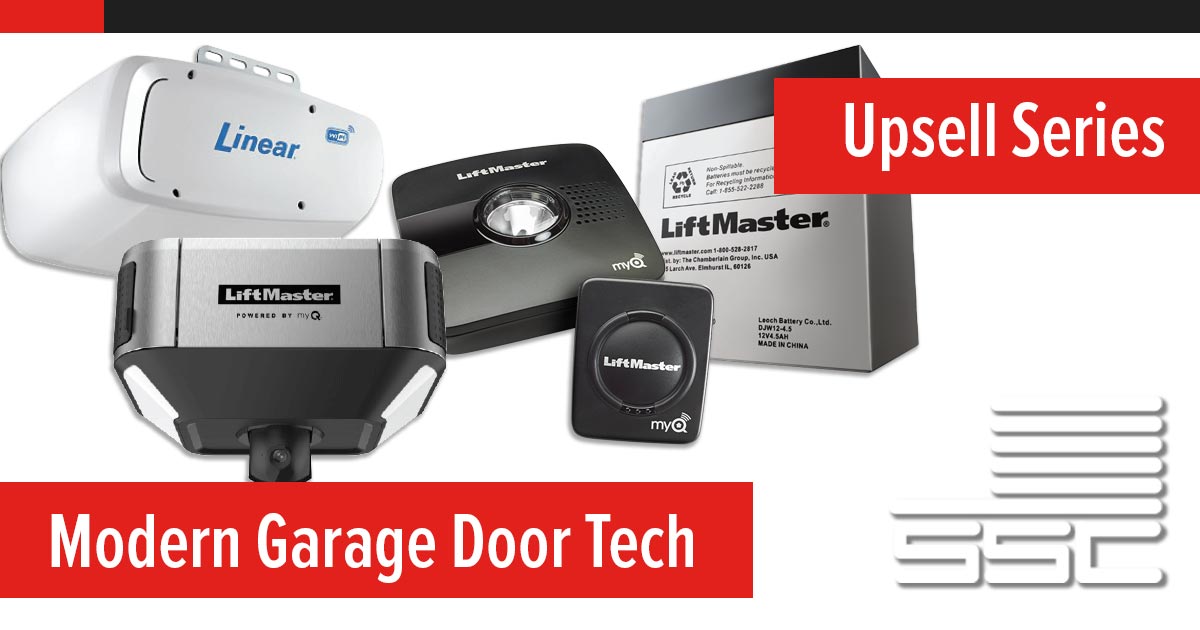 Welcome to the third installment of our Ideal Upsell Series, where we delve into the world of modern garage door openers that provide homeowners with enhanced security and convenience. In today's market, these innovative devices come equipped with a variety of unique features. First, we will look at 5 advantages of modern garage door openers and what you can do if the homeowner already has a relatively new opener.
5 Advantages of Modern Garage Door Openers
Modern openers have transformed the way we interact with our homes, offering unparalleled convenience, safety, and smart home integration. Below we explore these five key advantages so you can promote them to your customers.
Advantage #1 – Convenience
Modern garage door openers offer effortless operation. With just a press of a button on a remote control, smartphone app, or even a smart home assistant like Alexa or Google Assistant, you can open and close your garage door from the comfort of your car or inside your home. This convenience saves time and effort, especially during inclement weather or when you're in a hurry.
Advantage #2 – Safety & Security
Safety is paramount when it comes to garage doors, and modern openers make this a priority. Modern openers use rolling code technology, which generates a new access code each time you use it. This feature prevents potential intruders from intercepting the code and gaining unauthorized access to your garage. Additionally, some models come with motion sensors that detect objects in a door's path, minimizing the risk of accidents.
Advantage #3 – Home Integration
One of the most significant benefits of modern garage door openers is their seamless integration with smart home systems. By connecting your opener to your home automation hub, you can manage your garage door remotely, receive status notifications, and even incorporate it into automation routines. For instance, your garage door can automatically close at a specific time every evening, providing an extra layer of security.
Advantage #4 – Battery Backup
Power outages can be a major inconvenience, but modern garage door openers often come equipped with battery backup systems. During blackouts, these openers can still function normally, ensuring you can access your garage and preventing any disruptions to your daily routine.
Advantage #5 – Quiet Operation
Older garage door openers are notorious for their noisy and jarring movements. Modern openers, however, use advanced technology and belt-drive or screw-drive mechanisms, which operate more quietly and smoothly. This makes them an ideal choice for homes where bedrooms or living spaces are close to the garage.
Modernize Your Existing Garage Door Opener
Have a client who recently replaced their opener? If the opener is relatively modern but lacks the latest features, consider recommending an upgrade to a more advanced model. Many manufacturers offer retrofit kits that allow you to add new functionalities to your existing opener, such as smartphone control, battery backup, and enhanced security features.
Bonus – Wall Mount Openers
Wall-mount garage door openers, also known as jackshaft openers, offer numerous benefits that make them a popular choice among homeowners seeking an efficient and space-saving solution. Here are the key advantages of wall-mount garage door openers:
Space-Saving Design
Quieter Operation
Enhanced Ceiling Clearance
Energy Efficient
Improved Aesthetics
Increased Longevity
Smart Home Integration