The Importance of Safety for Commercial Overhead Door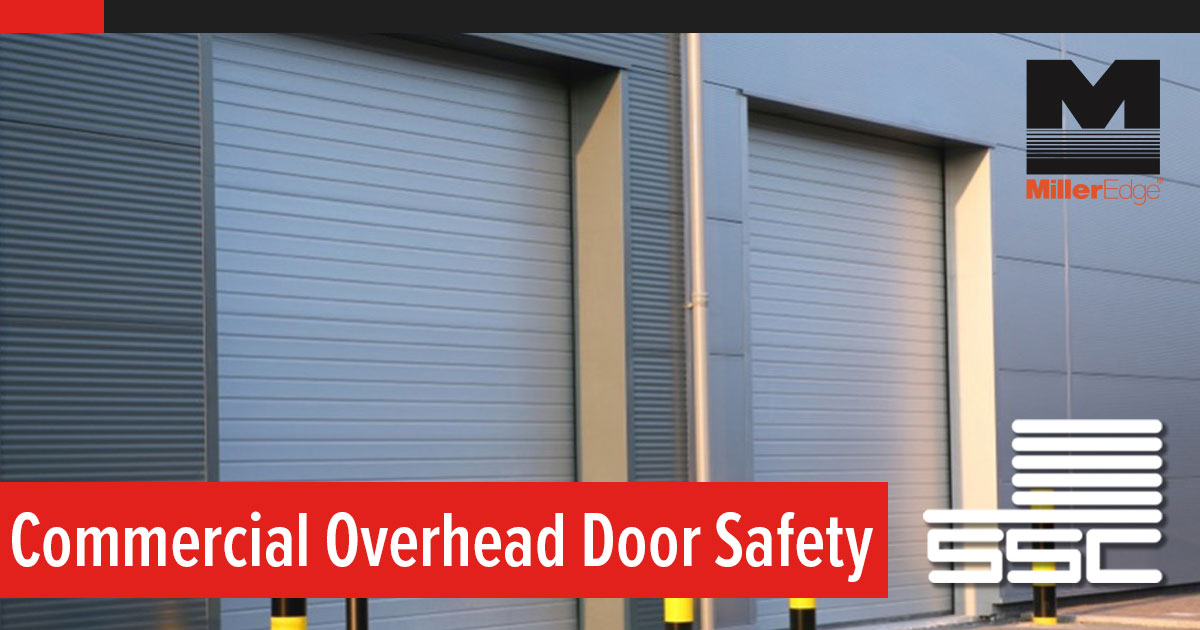 In the bustling world of business, where productivity and efficiency take the forefront, it's easy to overlook a critical aspect that forms the backbone of any successful enterprise – safety. Miller Edge and SSC are teaming up to provide a series designed to bring a better understanding of commercial garage door safety and how you can use this information to not only better understand how safety products work, but how to sell them to your customers. We're first going to look at the history and reasons why commercial safety is so important.
The significance of safety for commercial overhead doors cannot be stressed enough, as it is intertwined with a range of factors that impact both individuals and the bottom line. In this article, Miller Edge gives us a unique perspective on commercial safety and will delve into the vital role of safety in commercial overhead doors and explore the evolution of industry standards to ensure a secure workplace environment.
A Safe Workplace is Sound Business
Social Responsibility and Valuing Your Team
In an era where corporate social responsibility is paramount, safety initiatives for commercial overhead doors resonate with ethical business practices. Prioritizing the welfare of employees, their families, and the community showcases a commitment to making a positive impact beyond profits and is one of the first reasons that come to mind when we think of why we look for safety measures.
The repercussions of workplace injuries and illnesses extend far beyond the immediate affected individuals. From employees to customers and even third parties, the consequences can be dire. By prioritizing safety for commercial overhead doors, businesses can safeguard the well-being of everyone in their vicinity, mitigating potential harm and avoiding legal liabilities.
Employees are the backbone of any organization, and their well-being directly influences productivity and morale. By demonstrating a commitment to safety, businesses can engage their workers, fostering a positive work environment and encouraging a sense of ownership in maintaining safety protocols.
Improving Compliance with Laws and Regulations
Adhering to industry regulations and laws is not just a legal obligation; it's a proactive step towards a secure working environment. Striving for compliance with safety standards ensures that businesses remain aligned with best practices, which is crucial for building trust and credibility in the industry.
Reducing Costs & Increasing Productivity to Enhancing Business Operations
It's no secret that accidents and injuries lead to increased expenses. Medical bills, legal fees, compensation claims – all of these can take a significant toll on a business's financial health. Investing in safety measures for commercial overhead doors can dramatically cut down on these costs, ultimately contributing to a healthier bottom line.
In the end, a safe workplace translates to uninterrupted operations. By minimizing downtime due to injuries or accidents, businesses can maximize their productivity, ensuring smooth workflows and optimized efficiency.
Recognizing the Need for Protection
Selecting the appropriate level of protection for motorized overhead doors requires a comprehensive assessment of potential safety hazards and risks. Consideration must be given to various aspects:
Personnel Injury or Death Hazard
Ensuring the safety of individuals in the vicinity of commercial overhead doors is paramount. Protection measures should aim to prevent any potential harm to employees, customers, or bystanders.
Material and Product Protection
Safeguarding incoming raw materials and outgoing finished goods from damage during the door's operation is essential for maintaining product quality and minimizing losses.
Vehicle and Property Protection
The potential for damage to vehicles, equipment, and property necessitates robust protection measures to prevent accidents and costly repairs.
The Costs of Inadequate Protection
The aftermath of a damaged and non-operational door can result in significant costs, including the expense of door replacement, loss of use, damage to customer goodwill, business delays, and reduced productivity.[WM1] [WM2]
Industry Standards & Terminology: UL 325 History
The evolution of safety standards for commercial overhead doors has been a significant journey, driven by the need to enhance workplace safety. The UL 325 Standard for Safety, which covers doors, drapery, gates, louvers, and window operator systems, has played a pivotal role in shaping safety regulations for these systems.
1973: Standard First Published
The inception of the UL 325 standard marked a pivotal moment in the quest for safer commercial overhead doors. This initial publication laid the groundwork for subsequent developments in safety regulations.
1993 (US) & 1994 (Canada): Mandatory Monitored Entrapment Protection for Residential GDOs
Recognizing the critical importance of monitored entrapment protection, the UL 325 standard was updated to mandate this safety feature for residential Garage Door Openers (GDOs).
2010: Mandatory Monitored Entrapment Protection for CDOs Using Momentary Contact for Close Cycle
As technology advanced, the scope of safety regulations expanded to include Commercial Door Openers (CDOs). The 2010 update to the UL 325 standard introduced mandatory monitored entrapment protection for CDOs utilizing momentary contact for close-cycle operations.
UL 325 Requirements and Enforcement: Commercial Overhead Doors
The UL 325 standard outlines specific requirements to ensure the safety of commercial overhead doors. These requirements are vital to preventing entrapment incidents and enhancing overall workplace safety.
Option 1: Constant Pressure on the Close Button
One method of compliance involves maintaining constant pressure on the close button, ensuring that the door is actively controlled throughout the closing process.
-OR-
Option 2: Connection of a Monitored External Entrapment Protection Device
An alternative approach is to utilize a monitored external entrapment protection device, such as a photo optic device or sensing edge. These devices provide an additional layer of safety by detecting obstructions and halting the closing process.
Overview Related to Entrapment Protection – Not Exhaustive
While the options mentioned above provide a snapshot of the safety measures, it's crucial to recognize that entrapment protection encompasses a broader spectrum of practices aimed at preventing accidents.
In the United States, the adoption of UL 325 has been widespread and integrated into key building and electrical codes, including the International Building Code (IBC), International Fire Code (IFC), and International Residential Code (IRC). The National Electrical Code (NEC) designates the "authority having jurisdiction" to interpret and grant approvals based on UL 325 compliance. In Canada, the Canadian Electrical Code has also embraced the UL 325 standard.
Defining Non-Monitored Edges
Before the comprehensive adoption of monitored entrapment protection, non-monitored edges were prevalent. These edges cannot detect the presence or correct operation of entrapment protection devices, making them less effective in preventing accidents.
Device and/or Wiring Fault
Non-monitored devices can be susceptible to faults in device operation or wiring, which might go undetected. In such cases, the door may not revert to constant pressure, potentially leading to hazardous situations.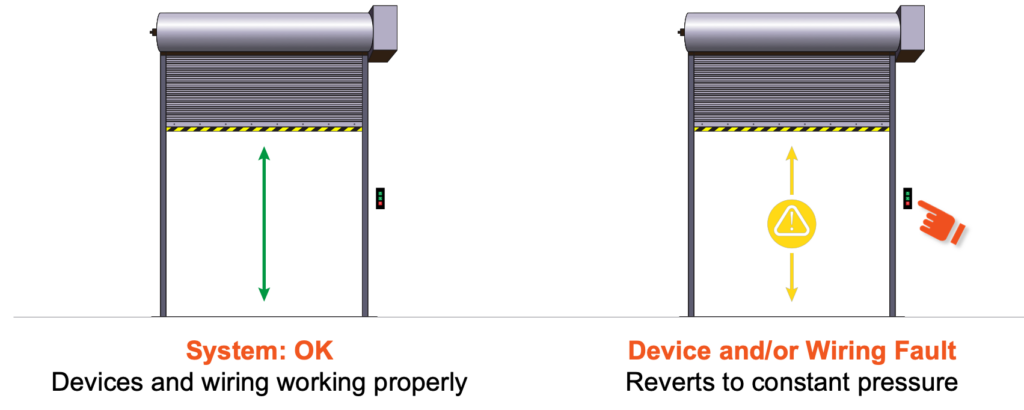 Monitored Edges: A Leap Forward in Safety
Monitored edges represent a significant advancement in the realm of entrapment protection. These edges allow operators to actively check the presence and proper functioning of entrapment protection devices.
Facilitating Momentary Contact
For post-UL 325: 2010 listed operators, monitored edges facilitate momentary contact, enhancing the accuracy and responsiveness of the safety system.
UL 325: 2010 Requirements
The 2010 version of UL 325 mandates the inclusion of at least one monitored external entrapment protection device for commercial overhead doors unless the constant pressure option is employed.
The significance of safety for commercial overhead doors transcends mere compliance; it is a fundamental aspect of responsible and successful business operations. By adhering to evolving industry standards, such as UL 325, and adopting modern safety technologies, businesses can create a secure environment that not only protects individuals but also enhances productivity and strengthens their reputation as socially responsible entities. When considering protection options, a thorough evaluation of potential hazards and risks ensures that the chosen safety measures align with the specific needs of the business, leading to a safer and more prosperous future.
In our next blog, Miller Edge reviews with us the different levels of Commercial door safety and how to recognize which solution is right for you.
Safety Disclaimer: In order to see all procedures completely, there may be safety measures that are not taken by our actors. Be sure to follow any and all proper safety requirements and refer to your manufacturer's installation manual for details. Your health and safety is the #1 concern. Failure to understand/follow the recommendations in the course could result in property damage, personal injury or death. While all efforts are made to provide accurate information and guidance, it is impossible to predict all door circumstances. Accordingly, the user agrees that the user of this video; products and information contained herein are at your own risk. In no event shall Service Spring be liable for any property damage, personal injury/death, or any other loss or damage that may result from your use of the information and products provided on this video. All information contained within this site is provided "as-is" without warranty expressed or implied. User assumes all responsibility/risk for use of information and products purchased. If you have any doubts about your ability to perform the work safely, we recommend you contact another door professional to complete your repair.