The 4 C's of Customer Service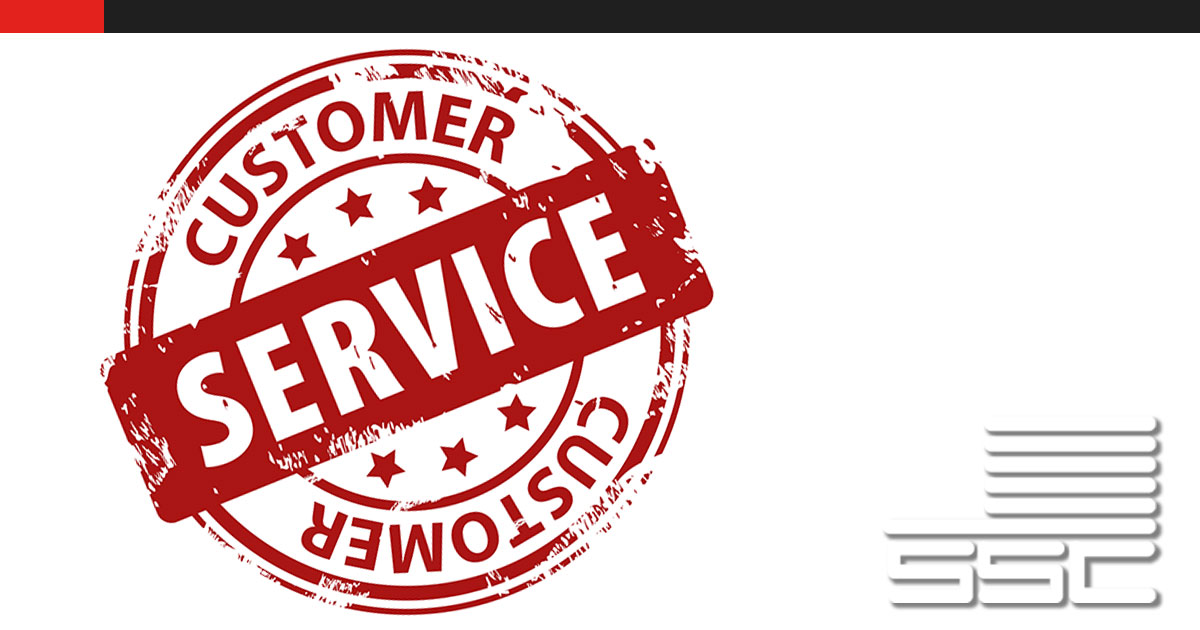 Customer Service at SSC is very important to us, but even more importantly, to our customers. After all, service is in our name. We hope the content in this article helps you provide better service and value to your customers.
All businesses revolve around the customer, regardless of the type of business.  If you are selling a product or providing a service, that experience, interaction and relationship matters. How you shape those relationships can determine the future success of your business.
It is important to understand how to approach, talk and deal with customers and situations that may arise. Our hope is that any phone call or job results in a happy, returning customer.
In this guide we will be looking at the 4 C's of customer service. The 4 C's are:
Competence
Confidence
Compassion
Competition
Before we dive into the 4 C's let's take a look at customers and customer service. For this guide, the following will all be considered customers:
Clients
Patrons
Consumers
Buyers
Shoppers
Customer Service: the assistance and advice provided by a company to those people who buy or use its products or services.
Customer service a company wide standard and way of thinking.
First, you need to understand your customers and how your business affects them. We will focus on the garage door industry for our example as this is the industry we serve. Typically, calls received will be for garage door repairs or a garage door not working properly.
You will want to provide them with top-of-the-line customer service when potential customers call. This starts with making sure everyone in your company understands the importance of good customer service.
COMPETENCE
Competence is the ability to do something successfully or efficiently. In the garage door industry, you must have enough knowledge to provide helpful service to your customers. We recommend training all your employees, including your office staff, with industry knowledge.
The key to understanding your customers' problem is to ask the appropriate questions. Here are a few tips for developing a competent customer service representative.
Educating
Make sure the person answering the phone is knowledgeable in the industry. We offer a variety of courses from basic to intermediate in our online Solutions Education platform. This platform is free to all SSC customers. An educated employee will have the ability to determine if the call is a simple repair or a larger issue.
Communicating
Make sure you have open communication between the sales staff, technicians and office personnel. Keeping everyone on the same page allows for smoother interaction with the customer.
Evaluating
Continue to evaluate and grow each employee and department. Review specific calls and discuss how they could have been handled better. What questions could have been asked to better help the service technician? Build a reference library with common questions and best practices and schedule regular training times for staff.
Educating, communicating and evaluating all employees will lead to a more competent company.
CONFIDENCE
Confidence by the person answering the phone will give your customer the reassurance that they called the right company and will be helped sufficiently. Lack of knowledge and confidence makes a customer hesitate to call a company back or trust that they can fix the problem.
Train yourself and your employees to be a leader in the industry that you serve.  Competence and confidence are two great characteristics of a successful team.
COMPASSION
This is one of the most difficult of the 4 C's to implement.
Compassion: sympathetic pity and concern for the suffering or misfortune of others.
When a customer calls with a problem, showing compassion and understanding is one of the most valuable traits an employee can have. The customer is likely frustrated with their garage door issues.
Typically, your customer base will call about:
The door won't open
The remotes won't work
Garage door needs replaced
Reassure your customer that you are there to help them and go the extra mile to provide the best experience possible. Do not be afraid to ask questions. This shows that you understand the problem and are working towards a resolution. Make sure that you do everything to provide the best possible customer service.
COMPETITION
The garage door industry has a lot of competition. There are many factors why a customer would choose you over the competition: Price, Location and availability of products or service.
Let's look at the things that are easier to control: the total customer experience. Just don't do better than your competition, DO WAY BETTER! If you can offer exceptional customer service, some of the competitive advantages can be overlooked. Provide such an incredible experience that the customer continues coming back.
Knowing and practicing the 4 C's of Competent, Confidence, Compassion and Competition will make your business stand out from the rest and make your employees among the best in the garage door industry.
We hope this guide was informative and will help provide better service and value to your customers. Be sure to check out all of our other courses offered in our online Solutions Education platform.