3 Garage Door Spring Stocking Methods – Advantages & Disadvantages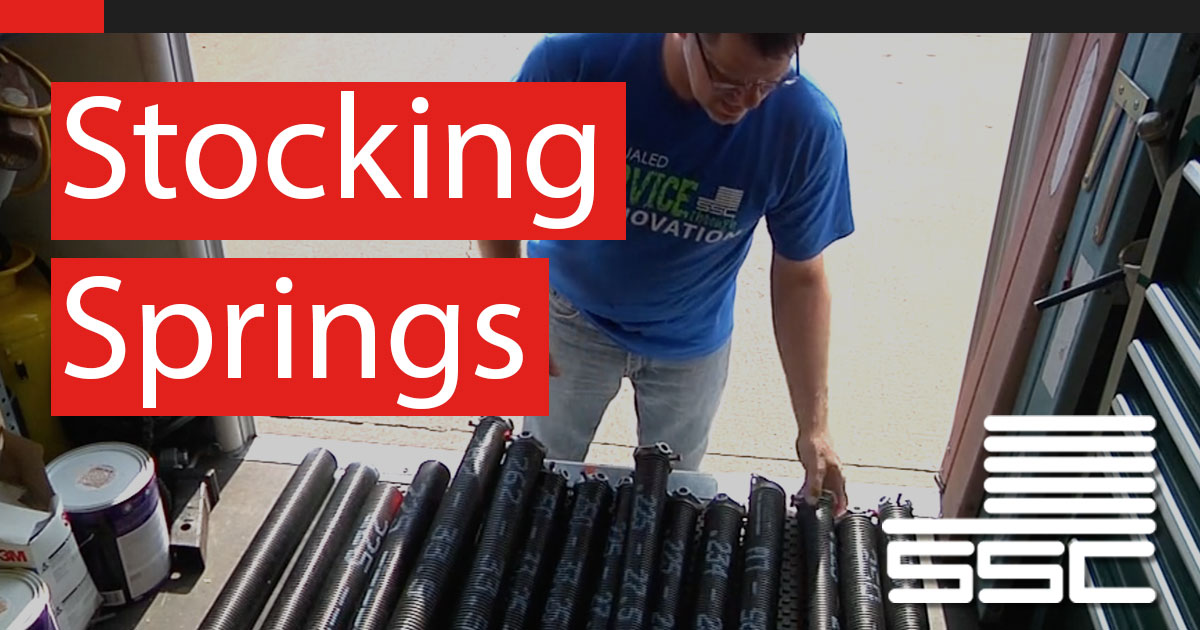 In this guide, we explore the advantage and disadvantages of 3 garage door stocking methods for torsion and extension springs. Our hope is that this guide helps you determine the best solution for your business.
PRO TIP: WE RECOMMEND DOWNLOADING OUR SPRING ENGINEERING APP. THE APP HELPS SPEED UP THE TIME SPENT ON THE JOB SITE FOR ALL OPTIONS LISTED BELOW.  
OPTION 1 – STOCK PRECUT SPRINGS
The first option recommended is stocking precut springs already assembled with winding and stationary cones installed. We have already done the engineering based on 7' and 8' standard lift sectional doors with standard 400 series drums.
Our stock spring program has springs available to accommodate the following.
Garage doors that weigh 70 to 200 lbs. for single and 2 spring assemblies
Garage doors up to 400 lbs. for 2 -spring doors
A wide variety of the most popular springs purchased today
Advantages
With the cones already installed in the springs, you spend less time at the jobsite and fix the door in a shorter amount of time.
Stocking a good mix of different springs allows you to service a great number of garage doors
Eliminates the need for return trips
SSC has all the stock springs ready to ship and permits you to combine different springs for the best quantity pricing. Contact our sales team today to discuss available options or to place an order.
Disadvantage
If you do not have an exact match in stock you will need to know the weight of the door.
PRO TIP: IF YOU HAVE THE OLD SPRING, YOU CAN USE THE SSC SPRING ENGINEERING APP TO HELP YOU CONVERT THE OLD SPRING INTO ONE OF THE STOCK SIZES YOU HAVE ON HAND.
OPTION 2 – LONG LENGTH SPRINGS
The second option we recommend is to stock long-length springs. Some garage door technicians feel this is the best option as it allows for the most customizable inventory to accommodate most spring assemblies.
We have these springs in stock and ready to ship for common wire sizes of .192 to .306 with common inside diameters (ID) of 1 3/4" and 2" in a length of 10' (120"). With the proper cutting tools, you can cut the spring to the exact size you need.
PRO TIP: ENSURE YOU HAVE CONES ON HAND AND AT THE JOB SITE TO SAVE TIME.
Advantages
Having a variety of long -length springs in stock allows you to complete the job in a timely manner
Eliminates the need for costly jobsite returns
Disadvantages
Extra cones needed
Extras tools required to cut and add cones to the springs
UPSELL OPPORTUNITY – USE THE SSC SPRING ENGINEERING APP TO CONVERT TO A HIGHER CYCLE SPRING YOU HAVE IN STOCK.
OPTION 3 – STOCK CERTAIN NUMBER OF SPRINGS AT SPECIFIC LENGTHS
Stocking several wire sizes in 1 3/4" and 2" IDs at the length of 40" to 45" will allow you to service a greater number of customers. Use the SSC Spring Engineering App to help you upgrade an existing spring that is smaller and only good for 10,000 cycles.
PRO TIP – FOR THESE TYPES OF SPRINGS, HAVE SSC INSTALL STATIONARY CONES ON ONE END. THIS WILL SAVE YOU TIME AT THE JOB SITE.
One disadvantage is that you will have scraps left over after cutting the springs to size.
We hope that after looking over these options you are more comfortable stocking springs that work best for your business.
To watch this full video and other helpful videos, be sure to check out all of the Solutions Education courses.
Are you signed up for Solutions Education? All courses are free to garage door dealers and installers. Invite your employees to follow this guide.
(*Must be a registered company of SSC to access the above registrations – Register Here)
Safety Disclaimer: In order to see all procedures completely, there may be safety measures that are not taken by our actors. Be sure to follow any and all proper safety requirements and refer to your manufacturer's installation manual for details. Your health and safety is the #1 concern. Failure to understand/follow the recommendations in the course could result in property damage, personal injury or death. While all efforts are made to provide accurate information and guidance, it is impossible to predict all door circumstances. Accordingly, the user agrees that the user of this video; products and information contained herein are at your own risk. In no event shall Service Spring be liable for any property damage, personal injury/death, or any other loss or damage that may result from your use of the information and products provided on this video. All information contained within this site is provided "as-is" without warranty expressed or implied. User assumes all responsibility/risk for use of information and products purchased. If you have any doubts about your ability to perform the work safely, we recommend you contact another door professional to complete your repair.