SSC Elevates Customer Service with Dave Mount On-Site Training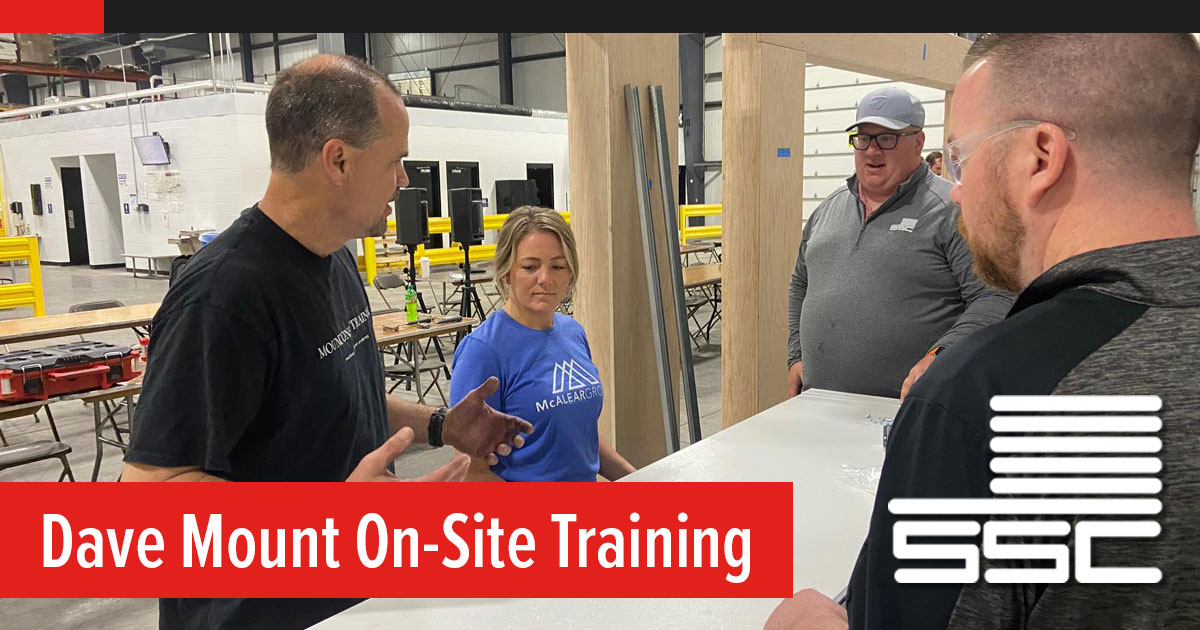 Outstanding customer service is the key to success. Therefore, SSC has gone above and beyond to ensure we can answer your installation and technical questions. Recently, we hosted a two-day hands-on training seminar with Dave Mount of Mount On-Site Training. This training session aimed to enhance our knowledge of installing and troubleshooting garage doors.
Dave Mount: A Respected Trainer in the Garage Door Industry
Dave Mount is a highly respected trainer with extensive experience and expertise in the garage door industry. In addition, he has years of experience owning and operating his own installation company. Today, Dave and his sons travel across the United States to provide training and education to dealers and technicians. And while each training is unique, they focus on best practices for safe and customer-centric garage door installation.
On-Site Training: Making SSC Experts in Installing Doors
During the hands-on training, Dave Mount covered products and installation techniques for a standard lift garage door. Additionally, he explored alternative products for low headroom and extension spring applications. During the training, numerous departments, including sales, marketing, production, and purchasing, learned everything about installing garage doors, from measuring correctly to understanding the different parts.
However, the training was more than just technical skills. Dave stressed the importance of paying attention to details and being precise. In addition, he shared insights on the dangers of installation done by non-experts or homeowners.
Going Above and Beyond to Serve our Customers
SSC's commitment to customer service goes beyond order-taking. It provides unmatched support and assistance four our dealers. Training initiatives, including the on-site training with Dave Mount, are vital in helping us achieve that goal.
Our customer service team can offer real-time answers because we invest in technical training programs. So whether troubleshooting a malfunctioning garage door or guiding a technician through a complex installation, our customer service team is better prepared to help you overcome any challenge.
The training sessions with Dave Mount also foster a culture of continuous improvement within SSC. As a result, our team has developed a deeper understanding of different garage door models and the ability to overcome potential issues that may arise. With this extensive knowledge, the team can provide personalized solutions and expert guidance to you.
Safety Disclaimer: In order to see all procedures completely, there may be safety measures that are not taken by our actors. Be sure to follow any and all proper safety requirements and refer to your manufacturer's installation manual for details. Your health and safety is the #1 concern. Failure to understand/follow the recommendations in the course could result in property damage, personal injury or death. While all efforts are made to provide accurate information and guidance, it is impossible to predict all door circumstances. Accordingly, the user agrees that the user of this video; products and information contained herein are at your own risk. In no event shall Service Spring be liable for any property damage, personal injury/death, or any other loss or damage that may result from your use of the information and products provided on this video. All information contained within this site is provided "as-is" without warranty expressed or implied. User assumes all responsibility/risk for use of information and products purchased. If you have any doubts about your ability to perform the work safely, we recommend you contact another door professional to complete your repair.