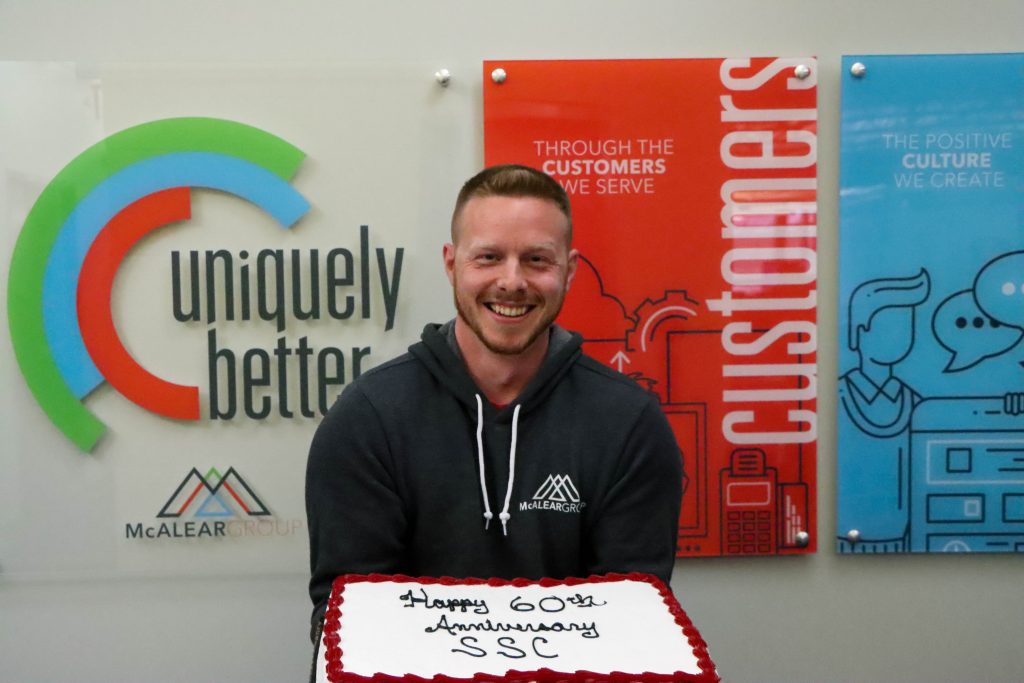 On March 30th, 2022, SSC celebrated our official 60th anniversary! In 1962, Clarence Veigel started Service Spring Corporation and formed our ideals of quality products and services, innovation, and customer-focused practices that would shape the company we are today.
Now on our 4th generation of CEOs, Matt McAlear is leading the largest organization in our history. We've expanded to 2 manufacturing locations and 6 service centers to best serve our customers across America!
"It's incredibly humbling to see that so many loyal dealers have put their trust in us for so long. We work hard to be our customer's supplier of choice and it's gratifying that our beliefs on how to run a business are sustainable and valued by the industry."
-Matt McAlear, CEO
Over the years, SSC has become more than just a spring manufacturer. We're also a parts distributor, selling everything from garage door hardware, to garage openers and all the tools needed to pull everything together. We've even expanded beyond the garage door and provide products for gates, truck/trailer doors, and mini-warehouse accessories.
Our contributions don't stop at products but have also expanded into industry training and education as well. Weather it's helping train new employees or providing the tools needed to engineer a spring, SSC has never lost sight of our customer-focused ideals.
"We never want to lose sight of keeping our customers at the center of what we do and providing world class service to dealers of any size…that's the best way we help our customers, constantly raising the bar, constantly staying innovative. I truly believe it's what has helped us over that past 60 years and will continue to move us forward."
-Matt McAlear, CEO
Customer service is an ideal that has been with us since the very beginning. We feel a kinship with smaller family-owned businesses and strive to do our best to ensure they have their share of the American dream. To do that, we believe in forming the best team we can. We look for ideal team players whose goal it is to strive for quality, regardless of what is being done. That's why our culture is so important. As a family-owned company, we feel it's our responsibility to lift up and support our employees, so they, in turn, pass that along to our customers and ultimately, to their families as well.
"I've grown so much as a person here. The people I work with have become family."
-Chelsey S., Production Associate
So, from our SSC family, to yours, thank you for partnering with us and allowing us to grow with you over the past 60 years. We hope you'll visit our service centers over the coming months as we host our birthday celebrations! Keep a look out on social media or call our sales team at 833.772.3677 for more information on a service center celebration happening near you!