Solutions
Our Solutons line offers free mobile apps and desktop solutions to your spring engineering needs as well as educational, subscription based training to keep your team at the top of their game.
SSC Spring Engineering
SSC Spring Engineering gives you the power to engineer and convert springs, compare drums, engineer springs by IPPT and much more in the palm of your hand. Whether you're in the field requesting a quote, or back in the office managing your next customer stop, SSC Spring Engineering is a fast, all-inclusive way for you or the whole company to manage their responsibilities.
SSC Spring Engineering Desktop
SSC Spring Engineering Desktop gives your the power to engineer and convert springs, compare drums, and engineer springs by IPPT at your computer. The digital rate book makes it easier to complete your engineering from the comfort of your desk chair! Download the digital download for FREE today!
Solutions Education
Solutions Education is a subscription-based training program created by industry experts to educate the overhead door industry and standardize training. Based on your input and suggestions, our program is constantly evolving to meet your needs.
Features
Unlimited full video bundle subscription for just $9.99/mo. or purchase individual videos for 15 days
Consistently train all employees
Certify employees with quizzes following each course
Use it anytime, anywhere on desktop or mobile devices
Enroll Today
"I felt the program was very well done, and a great asset for new employees."
Chuck Nunley, Superior Overhead Door Inc.
"The SSC Solutions Education program has been a great resource for our company and has helped lay the foundation for our new hire orientations."
Aaron Walsh, Joe Wilde Company Inc.
RES02
Dismantle and Install a Residential Garage Door
This course will walk you through a detailed process for completely removing an old residential garage door and installing a new insulated garage door. We will cover steps from tools and parts, to replacing the counterbalance assembly, to installing the new garage door and testing for proper operation.
COM01
Commercial Garage Door Installation
All the way from mounting the door frame to back hanging the track, this course will walk you through the basic steps for installing a commercial garage door.
RES01
Installing a Residential Draw-Bar Operator
This course will walk you through the detailed process of completely removing and replacing a residential draw-bar style garage door opener. We will cover removal of the old opener, installing safety equipment, installing the new opener, and adjusting safety and limit settings on the new opener.
RES05
Drive Gear Assembly Replacement
This course will take you through the steps for replacing a LiftMaster Residential drive gear assembly.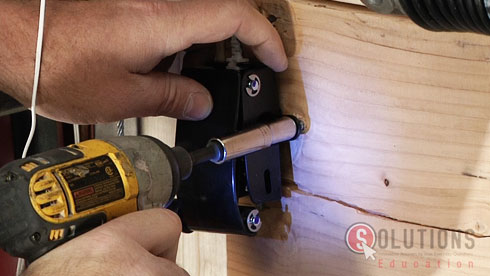 RES03
Installing A Residential Jack-Shaft Style Garage Door Operator
This course will walk you through the basic steps for installing a residential jack-shaft style garage door operator (Liftmaster 3900).
Get Started
Register for the SSC Solutions Education program today to consistently train all employees through video bundles or individual course purchases. Successful completion of the videos can be sent to the IDEA with proof for CEU credits. All results will be emailed to the account email.
Get Started