Quick Guide: Garage Door Track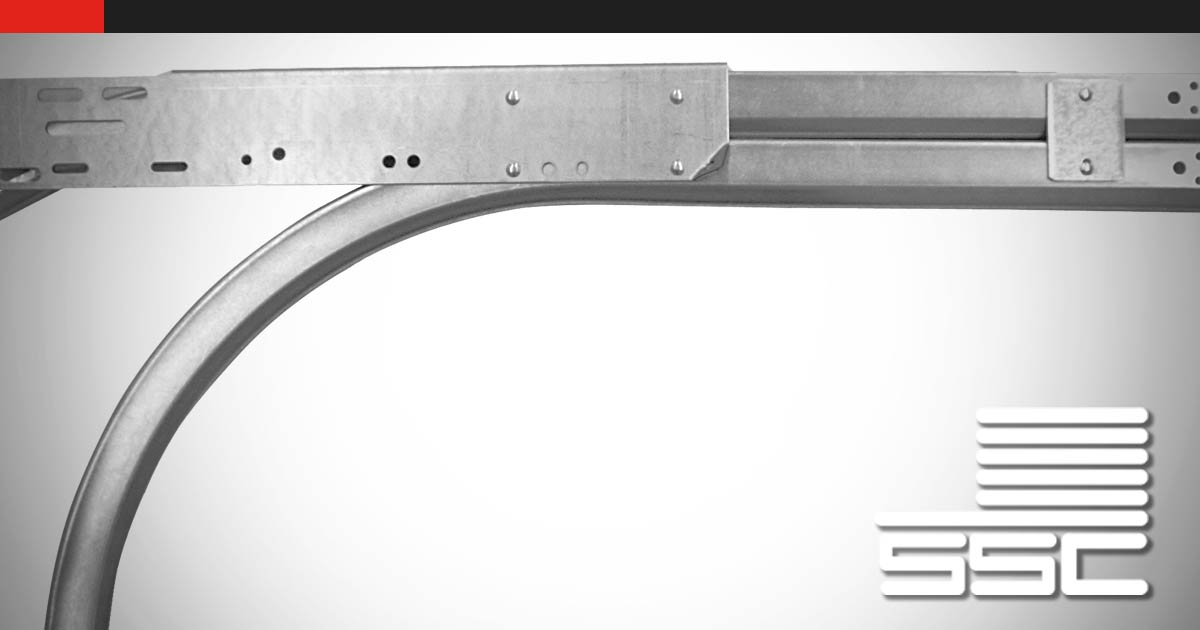 Garage door tracks are one of the most important parts of any garage door. You want to make sure you use quality materials when installing and repairing residential or commercial garage doors. We carry vertical, horizontal, and low headroom track sections to service all your needs. In this guide we look at the various options available.
3 Track Widths
Garage door track is offered in 3 different width sizes.
1 Inch – Common in truck & semi-trailer applications.
2 Inch – Common in residential and commercial applications. (Link to Track Page)
3 Inch – Utilized in more industrial applications where the door is heavier. Can be used in some residential situations where the door is heavier.
Garage Door Track Lengths
Most residential garage doors use a standard 6 feet 4 inch or 7 feet 4-inch vertical track. At SSC we offer both these sizes ready to ship in a 2-inch width. Need a longer length? We offer raw track at 13 feet 4 inches available in 2 and 3 inch widths.
Garage Door Track Lift Types
Garage doors have 3 common track lift types. Standard lift (commonly seen on most residential homes), hi-lift (when the door needs to travel out of the opening before heading into the horizontal tracks), and vertical lift (commonly found in commercial & industrial settings).
Garage Door Track Hardware
For attaching the track to the wall and ceiling, you will need certain hardware such as jamb brackets, splice plates and angle.
Angle
Perforated angle is the preferred material for mounting the garage door track to the wall. We offer multiple options, sizes and gauge thickness to ensure you have what you need to get the job done. Looking for that clean and polished finish look be sure to check out our powder coated perforated angle.
Splice Plates – Splice plates are used to connect the vertical portion of the garage door track to the curved portion.
Flag Brackets – Flag brackets are used to connect the vertical and horizontal portion of track where they come together.
Jamb Brackets
The most important hardware to understand and know is jamb brackets. Each bracket is numbered and corresponds to the location it is mounted to. Brackets are numbered from 1 to 14 to signify the distance from the jamb to the center of the two holes . The reason for the different size jamb brackets is because vertical track is installed at a slight angle to allow for the door to press tightly closed against the weather seal. The different numbered jamb brackets are what set the slight angle of the track. See our jamb bracket chart below for sizes.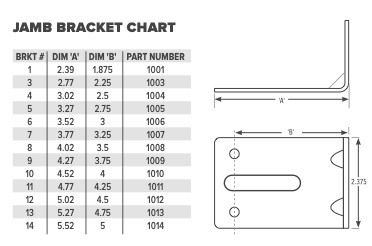 Safety Disclaimer: In order to see all procedures completely, there may be safety measures that are not taken by our actors. Be sure to follow any and all proper safety requirements and refer to your manufacturer's installation manual for details. Your health and safety is the #1 concern. Failure to understand/follow the recommendations in the course could result in property damage, personal injury or death. While all efforts are made to provide accurate information and guidance, it is impossible to predict all door circumstances. Accordingly, the user agrees that the user of this video; products and information contained herein are at your own risk. In no event shall Service Spring be liable for any property damage, personal injury/death, or any other loss or damage that may result from your use of the information and products provided on this video. All information contained within this site is provided "as-is" without warranty expressed or implied. User assumes all responsibility/risk for use of information and products purchased. If you have any doubts about your ability to perform the work safely, we recommend you contact another door professional to complete your repair.