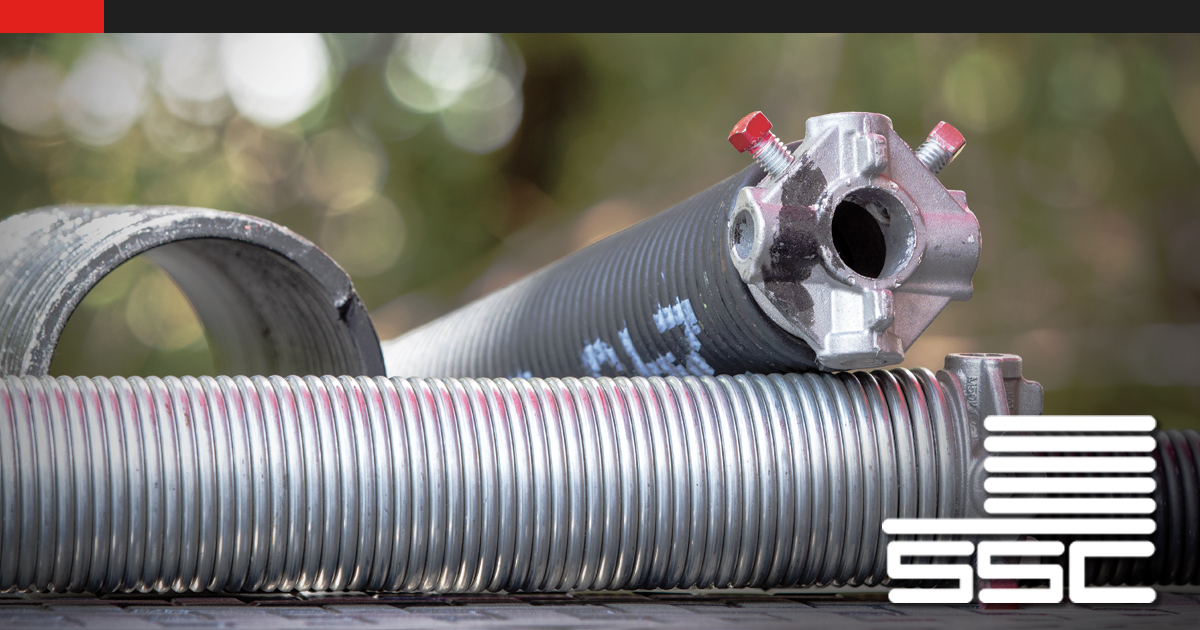 When providing service in the field, basic knowledge on spring engineering is vital. Having such knowledge allows you to: 
Use the inventory you have on-hand more frequently, reducing additional costs

 

Engineer extended-cycle life in springs with higher use

 

Confirm that the correct spring is on an overhead door

 
Most importantly, you will efficiently convert and replace springs on-site, saving you and the customer time and money.  
Basic Spring Conversions 
A basic operation carried out on-site is replacing garage door springs. To properly swap a damaged spring, the replacement must be as close to the dimensions of the original as possible. Accurately converting one spring's dimensions to another is called spring conversion. Calculation of conversion is dependent on two factors: Inch Pounds Per Turn (IPPT) and maximum turns. Keep the IPPT of the replacement spring as close as possible to the original spring. The same rule applies to "maximum turns" as this makes swapping out the springs easier.  
Let's Use an Example 
To paint a better picture of calculating spring conversions, here is an example that could occur in the field: 
You are on call at a worksite. The customer needs one of their garage door springs replaced. The original spring is right-hand wound, 243 wire, 1 ¾ "ID, 32 inches long. The spring has an IPPT rate of 41.2 and is good for 8.1 maximum turns. On hand, you have some 250 wire springs with a 1 ¾" ID. With all of this laid out, how do we convert the original spring's dimensions to match the new spring?  
There are two main methods of conversion: through a rate book, or through an industry program or app. 
Rate Book 
Using a rate book to cross reference conversion rates is a time-tested method that lays all the spring's specs out on a page. The most important specs for conversion, again, are IPPT and Maximum Turns.  
For our example, when you look at 250 wire springs, the 36" –long version has an IPPT of 41.3 and is good for 8.7 maximum turns. Though it isn't an exact match, the IPPT rates of both springs are close enough to make for a suitable replacement. As long as the maximum turns of the new spring meets the maximum turns of the original spring, it does not matter if the original is exceeded. Seeing that both springs are comparable to one another, the new spring you have on hand will work well. 
Industry Program 
SSC provides an application for the express purpose of expediting spring conversion. The app SSC Spring Engineering does all involved math and calculations for you. It determines the correct spring for the job, converts quickly and easily, and even determines the cycle life of a particular spring. 
For example, we still have the same spring as before (right-hand wound, 243 wire, 1 ¾ "ID, and 32 inches long). After opening the app, select SPRING CONVERSION and enter all known information under the CURRENT SETUP prompts. The remaining specs are then automatically filled in. These specs include: 
IPPT

 

Max turns

 

Active/Total Coils

 

Weight

 

Cycles

 
Under REPLACEMENT SETUP, the potential replacement spring's specs are filled in. if the wire size does not quite match, press the red "+" button until the wire size is correct. (Keep in mind that the larger the wire size, the longer the spring.) 
Apps like SSC Spring Engineering help to initially confirm that the spring on the door is the correct engineered spring. Through the app's SPRING ENGINEERING, enter the garage door's information, including: 
Assembly Type 

 

Single

 

Duplex

 

Triplex

 

Number of Springs

If the door is duplex, the number of springs is 2

 
ID

Cycles

Lift Type

Standard

Vertical

Hi-Lift

 

Cable Drum

Door Height/Weight/Width

 
The app will then produce the exact spring needed to lift the door based on the door specs you provided. 
Safety Disclaimer: In order to see all procedures completely, there may be safety measures that are not taken by our actors. Be sure to follow any and all proper safety requirements and refer to your manufacturer's installation manual for details. Your health and safety is the #1 concern. Failure to understand/follow the recommendations in the course could result in property damage, personal injury or death. While all efforts are made to provide accurate information and guidance, it is impossible to predict all door circumstances. Accordingly, the user agrees that the user of this video; products and information contained herein are at your own risk. In no event shall Service Spring be liable for any property damage, personal injury/death, or any other loss or damage that may result from your use of the information and products provided on this video. All information contained within this site is provided "as-is" without warranty expressed or implied. User assumes all responsibility/risk for use of information and products purchased. If you have any doubts about your ability to perform the work safely, we recommend you contact another door professional to complete your repair.