Ideal Upsell – How to Increase Life of Garage Door Parts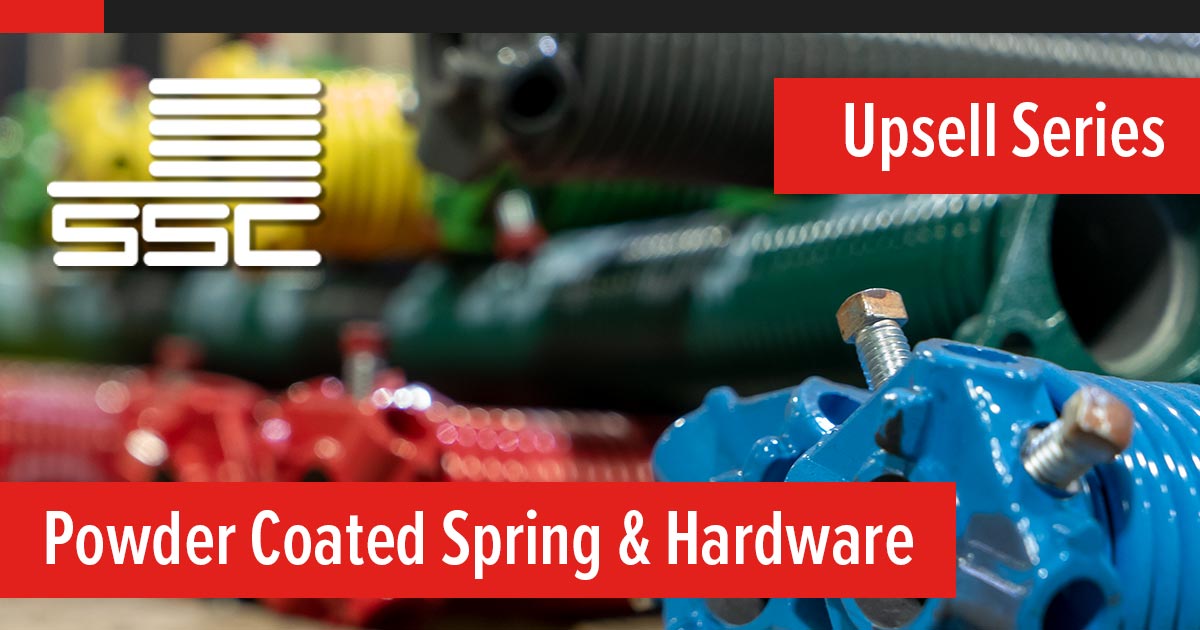 In our next installment of the ideal upsell series we look at powder-coated springs and garage door hardware. There are multiple benefits to powder-coated garage door springs and hardware at the tradeoff of an increased cost from traditional parts. In this blog, we look at those and highlight the various powder-coated products we offer at SSC.
Benefits & Use Cases
First, we look at the benefits of powder coating and opportunities to recommend it to customers.
Benefit #1 – Protective Coating
Powder coating provides a protective coating to springs and hardware that is beneficial in minimizing corrosion and rust, especially in higher humidity environments. Along with corrosion protection, powder coating resists chipping, scratches, fading, and wear.
Benefit #2 – Increased Lifespan
The protective coating from powder coated garage door springs and hardware will last as long as they are designed or even longer, depending on use. The coating keeps the springs and hardware from building up rust or other corrosion and makes them easy to maintain and keep clean, resulting in a longer lifespan for the spring. Standard garage door springs have an oiled coating that can attract dust, dirt, and other particles that build up on the spring over time.
Benefit #3 – Finished Look
Powder coating offers a clean, finished look to garage door springs and hardware. The coating offers a clean look that will last for years and is ideal in garage spaces that are used as additional living spaces such as. a guest room, man cave, kids' playroom, and more. You can offer customers color choices that complement the space, or colors for a particular project.
Powder-Coated Springs
At SSC we offer powder-coated springs in a wide range of colors from red and blue to orange and purple. Looking for a custom color? We can do that but keep in mind the turnaround time on those will be longer.
Available Stock Powder Coated Colors

Not only can you get powder-coated springs in different and custom colors, but we also offer the ability to customize the label or name on the springs. This is a nice opportunity for your business to place your company's name on the springs.
Call our sales team to order powder-coated springs at 833.SSC.DOOR.
Powder -Coated Hardware
Springs are not the only powder-coated item you can offer your customers. SSC offers powder- coated garage door hardware from hinges to perforated angle. Like powder-coated springs, powder-coated hardware protects against corrosion and other wear to help increase lifespan.
Bonus: Commercial Upsell Opportunity
Do you have a customer that owns a car wash or similar business where water is used and can impact the garage door parts? Recommend or offer powder-coated springs and hardware to protect from moisture and increase the life span of those parts.