Ideal Upsell – How to Improve Garage Door Noise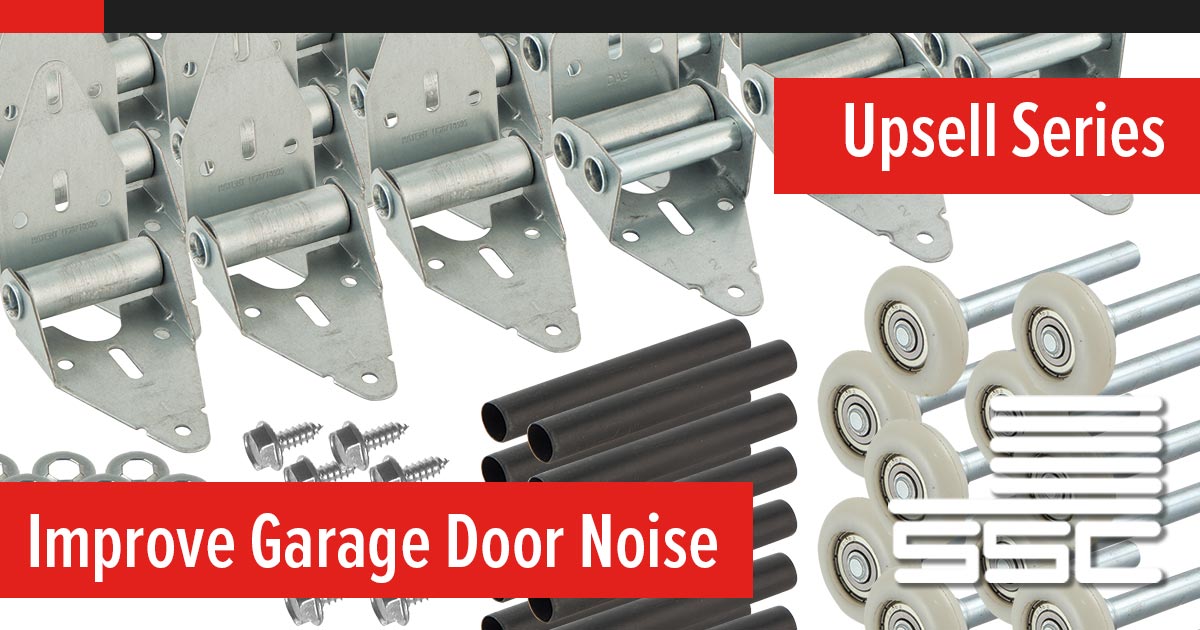 At SSC, we strive to provide you with resources that help provide better service to your customers. We are starting new blog series on ideal upsells that you can promote to your customers. In this first installment, we look at products for a quieter garage door operation.
Upsell Opportunities
Before we dive into products offered for quiet garage door operation, let's look at opportunities in which a more quiet garage door operation would be desirable:
Bedroom
In-law (Guest) Suite
Home Office
Playroom
Man Cave
Theater Room
Game Room
The top 3: a bedroom, in-law suite or home office, are the most common uses for space above a garage. Home offices are also becoming more common as more people work from home.
Garage Door Hardware
First, we look at the different garage door hardware options available for a quieter garage door operation.
Nylon Rollers
Nylon is much quieter compared to steel rollers in which you have metal on metal as the door opens and closes. Nylon rollers are also less corrosive and tend to last longer than steel. They are recommended in high humidity environments such as Florida and other coastal areas.
Quiet Hinges
Quiet hinges have additional space that allows for a sleeve to be inserted that lowers the noise of the hinge.
New install – If you are doing a new garage door install and the homeowner has a living space above the garage, we suggest recommending quiet hinges over traditional ones.
Existing – if the homeowner has a garage door in good condition, offer to replace the garage door hinges with quiet hinges to minimize noise.
BUYING TIP: SSC offers all these products individually and in a quiet hinge kit.
Garage Door Openers
Garage door openers are another area where you can recommend alternative options for a quiet garage door operation. First, let's look at the different garage door opener types:
Chain Driven Openers – These are the loudest of the different types of openers, but they are among the strongest. If the homeowner has a wooden or glass garage door, it might be best to use a chain drive or wall-mount garage door opener because of the weight of the door.
Belt-Driven Openers – These are one of the quietest openers. They are virtually silent except for the hum of the motor, while in operation. These are a good choice when swapping a garage door opener from a chain drive.
Wall-Mount Openers – These openers are just as quiet as belt drive and are a good upsell option if the homeowner is looking to utilize the additional ceiling space that would be created from the removal of a traditional chain-drive opener.
For quieter operating garage doors, the belt drive or wall mount openers are the ideal choice to offer your customers.
Bonus: Spring Filler
A bonus product you can offer to your customers is spring filler which helps reduce the noise of garage door springs while in operation. This is a piece of PVC plastic that fits over the torsion spring shaft and fills the space between the shaft and spring, minimizing the amount of noise the spring makes.
Shop Our Selection of Spring Filler Here
Homeowner Disclaimer: We do not recommend a homeowner attempt to make any of these updates or changes. We recommend you consult a garage door professional to complete any work on your garage door safely.