Did You Know? 12 Products We Offer at SSC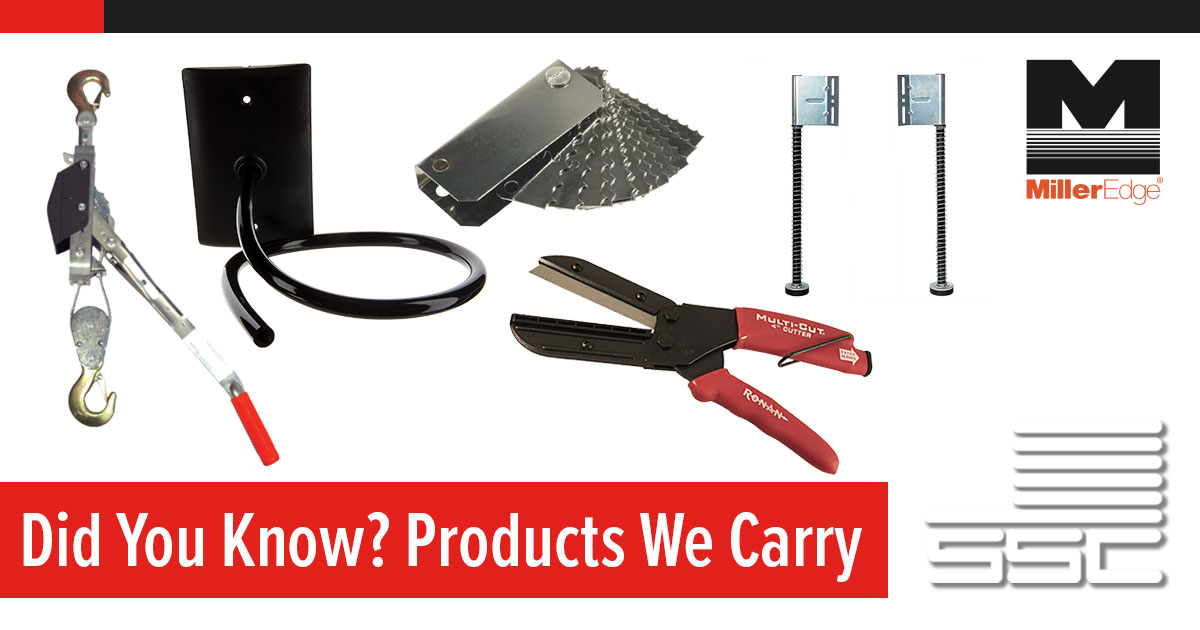 When it comes to garage door products, SSC stands out as a trusted name in the industry. But did you know just how diverse and wide our product range is? In this blog post, we'll introduce you to some of our unique or lesser-known products. From cables to brackets, and from spring failure devices to power tools, SSC has it all. Let's dive into the world of garage door products that you probably didn't know we offer.
1 – Cable Keeper – Part #412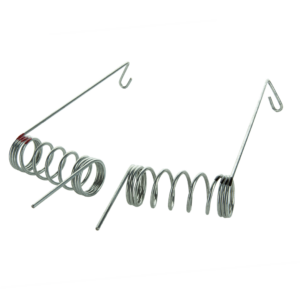 The Cable Keeper is designed to prevent the garage door cable from jumping off the drum, ensuring the garage door operates smoothly and safely. What's even better? Installing it is a breeze, as it fits snugly over the roller shaft on the bottom fixture, making it compatible with both current and new installations. For optimal performance, pair it with our Door Bumpers (Part # 417, 419, 419S, 416B).
2 – Sure Stop Bottom Bracket – Part #363, 364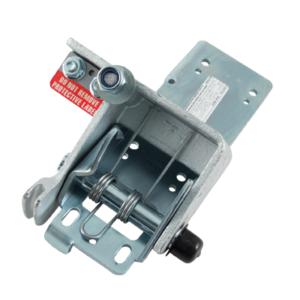 The Sure Stop Bottom Bracket is engineered to minimize the risk of a door free failing in the unfortunate event of a cable breakage or disengagement. It's available for use with 2-inch tracks (Part# 363) 3-inch tracks (Part# 363) and is built to handle a wide spectrum of garage door weights, ranging from a minimum of 66 lbs. to a maximum of 2,200 lbs. Installation is a breeze, with just a minimum cable tension requirement of 30 lbs. (2-inch), 15 lbs. (3-inch) and an additional 5" or 5.5"of cable length for a secure fit. Whether you're working on a hi-lift or vertical lift door, the SBB-2 Stopping Sure Stop is an indispensable addition to your toolkit, guaranteeing enhanced safety for your clients' garage doors.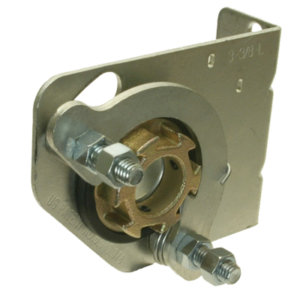 This device prevents a garage door from failing in the event of a spring breakage. Specifically designed for compatibility with 2″ spring fittings, you'll need one device per spring to ensure optimal safety. With a 3-3/8″ shaft offset, it's built for use with tube shafts and features a locking wheel that includes (2) set screws and (1) self-drilling screw for a secure installation. Sold individually, the Spring Failure Device is your go-to solution for fortifying residential garage doors and providing peace of mind to your clients.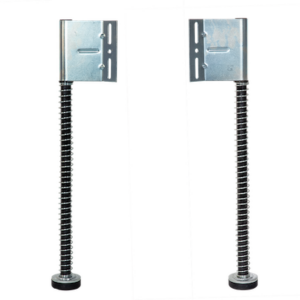 Garage door bumpers serve a critical role in the smooth and safe operation of garage doors. Their primary purpose is to prevent garage doors from traveling too far along the tracks, ensuring that the door stops at the desired open and closed positions. These bumpers are typically positioned at both the top and bottom of the door tracks to provide comprehensive protection. As seasoned garage door technicians, we highly recommend pairing these bumpers with cable keeper springs.
5 – Wire Hide Wall Plate Kits – Part #WH163, WH164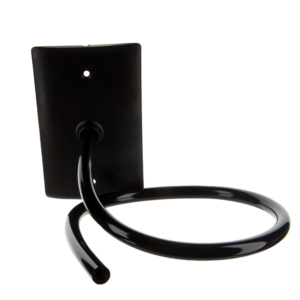 The wire hide wall kit in white or black is an excellent choice for garage door technicians looking to protect exposed low voltage wiring. It provides a clean and fast solution, making it ideal for a 2-wire set up. The kit includes installation hardware and 22 inches of tubing, ensuring you have everything you need to get started.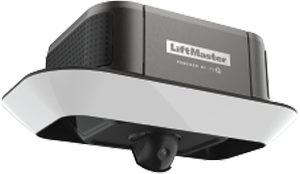 SSC offer a comprehensive range of replacement parts specifically designed for LiftMaster operators, catering to the needs of garage door businesses and technicians.
Our extensive inventory includes vital components such as control boards, gears, belts, and much more. Visit our website today to explore our selection of LiftMaster replacement parts.
7 – BD Loop Goop Gun – Part #BDLG2GUN (Direct Ship Product)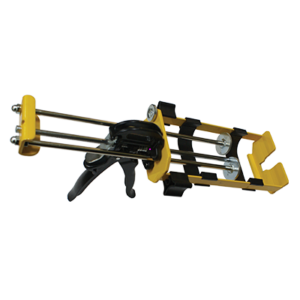 The BD Loop Goop Gun is your go-to tool for hassle-free loop sealant applications. Designed for professionals who demand precision, this compact and durable tool ensures clean, efficient, and reliable sealing of vehicle detection loops. Be sure to grab Loop Sealant (Part #BDLG2) as well.
For garage door technicians, the choice of tools can make all the difference in delivering top-notch service. That's where Milwaukee power tools come into play. Milwaukee has become a go-to brand for professionals in the field. These power tools are not just rugged and reliable; they're engineered to meet the specific needs of garage door technicians. From precision drilling to heavy-duty cutting. Shop our selection of Milwaukee power tools today.
9 – Pocket Wire Gauge – Part #427, 446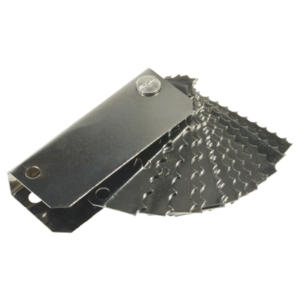 When it comes to residential garage door installations, precision is key. The Residential or Commercial Pocket Wire Gauge simplifies the process by accurately determining wire sizes ranging from .1875 to .3125 (Residential) and .3195 to .500 (Commercial) in one easy step. No more tedious counting of coils or struggling with tape measures.
10 – Cable Hoist – Part #841, 842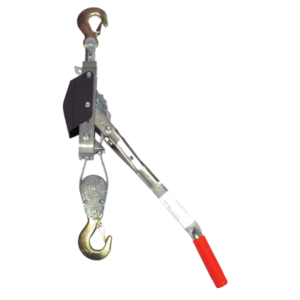 Having the right tools can make all the difference. That's where SSC's Cable Hoists come into play. With options available in both 1-ton and 2-ton capacities, they're the indispensable companions for garage door technicians. When paired with our Cable Puller (Part #435), these hoists elevate efficiency and safety during tasks like replacing garage door panels or repairing other hardware.
11 – Cable Puller – Part #435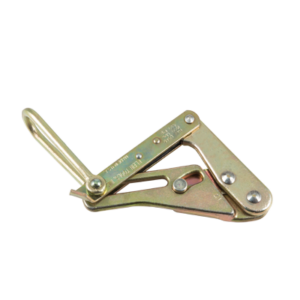 When it comes to garage door cables, precision and reliability are non-negotiable. Meet the Klein Tools Model 1613-30, the go-to solution for garage door technicians. With the ability to grip cable sizes ranging from 0.08″ to 0.20″, this tool ensures a secure hold, preventing cable slippage during repairs and installations. Equipped with a single V-Groove jaw and an impressive 1,500 lb. capacity, it's built to handle the demands of the job with confidence. Pairs well with the above Cable Hoist (Part #841, Part #842).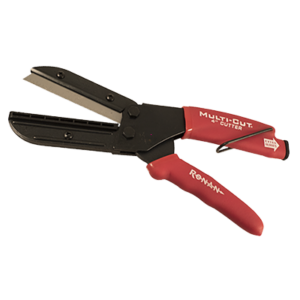 In the world of garage door maintenance, precision and durability are paramount. That's where the Ronan Multi-Cut Tool steps in. Crafted with industrial-rated USA-made steel razor blades, this tool is designed to withstand the toughest challenges. It comes with the added convenience of three extra blades stored right in the handle, ensuring you're always prepared for the job. The molded ergo-grip handle guarantees comfort and control, while the safety lock ensures your peace of mind. With its black oxide coating that resists rust and corrosion, this tool is built to last. And if you need replacements blades (Part #CUT40178) or a tool sheath (Part #CUT601), we've got you covered.