5 Low Headroom Solutions For Garage Doors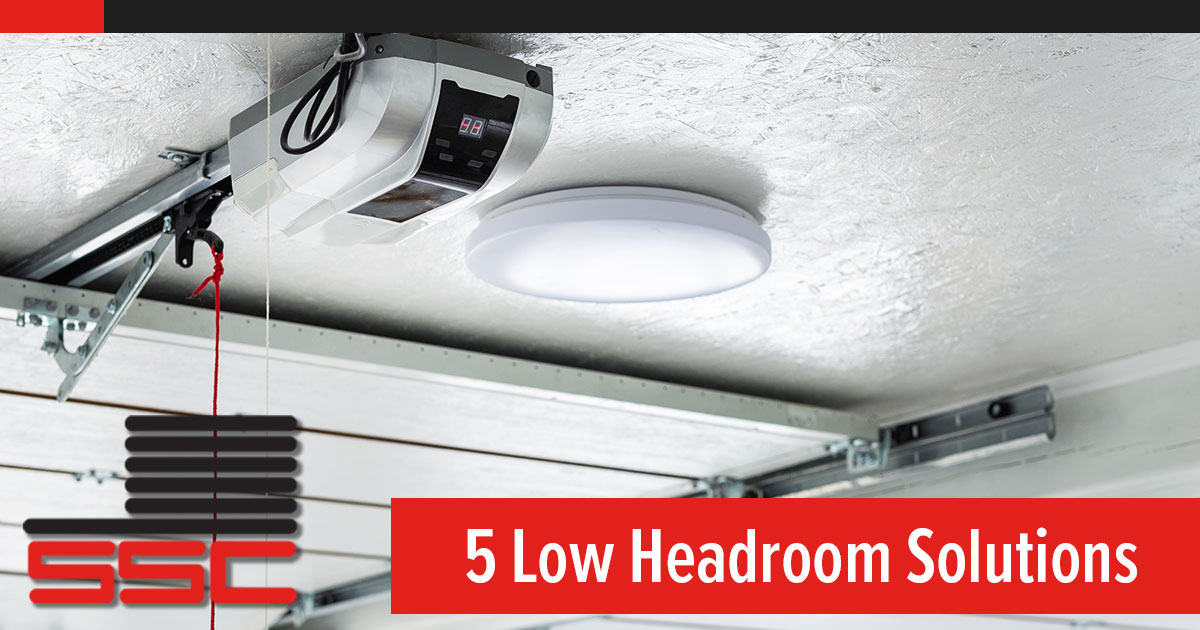 Most garage doors require at least 12 inches of headroom above the opening. Many modern houses have living spaces above the garage which limits the space available for the garage door to travel. There are several options to help solve headroom issues. In this post, we go over some of those options.
NEW GARAGE DOOR INSTALLATION OPTIONS
Double Low Headroom Tracks – Find Them Here
A common option for new installations is double-low headroom tracks. These tracks offer a second set of horizontal tracks that only the top toller travels through. Using this type of track allows for the top section of the garage door to flip through the radius quicker allowing more space between the door and the ceiling.
Super Sneaky Low Headroom Bracket – Find Them Here
One of the more innovative products on the market is the super sneaky top feature (bracket). This bracket allows for a standard garage door to be installed in as little as 6 inches of headroom space. This bracket works best if being installed on a door with a drawbar. The super sneaky allows for the top section to flip over into the horizontal instead of traveling around the track.
EXISTING GARAGE DOOR OPTIONS
Option 1 – Install a residential jackshaft opener. A jackshaft opener allows for the open to be installed beside the garage door. See our guide for installing a jackshaft opener and the requirements.
Option 2 – Quick turn top fixtures. These fixtures will provide you with 2 ½ inches of additional clearance. This allows enough room to install most standard residential openers.
Option 3 – O & E Low Headroom Bracket. This bracket allows for garage doors to operate with a minimum of 7 inches of headroom.
Additional Low Headroom Products Here.
To watch the full video, along with other helpful videos, be sure to check out all our Solutions Education courses.
Are you signed up for Solutions Education? All courses are free to garage door dealers and installers. Invite your employees to follow this guide.
(*Must be a registered company of SSC to access the above registrations – Register Here)
Safety Disclaimer: In order to see all procedures completely, there may be safety measures that are not taken by our actors. Be sure to follow any and all proper safety requirements and refer to your manufacturer's installation manual for details. Your health and safety is the #1 concern. Failure to understand/follow the recommendations in the course could result in property damage, personal injury or death. While all efforts are made to provide accurate information and guidance, it is impossible to predict all door circumstances. Accordingly, the user agrees that the user of this video; products and information contained herein are at your own risk. In no event shall Service Spring be liable for any property damage, personal injury/death, or any other loss or damage that may result from your use of the information and products provided on this video. All information contained within this site is provided "as-is" without warranty expressed or implied. User assumes all responsibility/risk for use of information and products purchased. If you have any doubts about your ability to perform the work safely, we recommend you contact another door professional to complete your repair.