How to Manage Unhappy Customers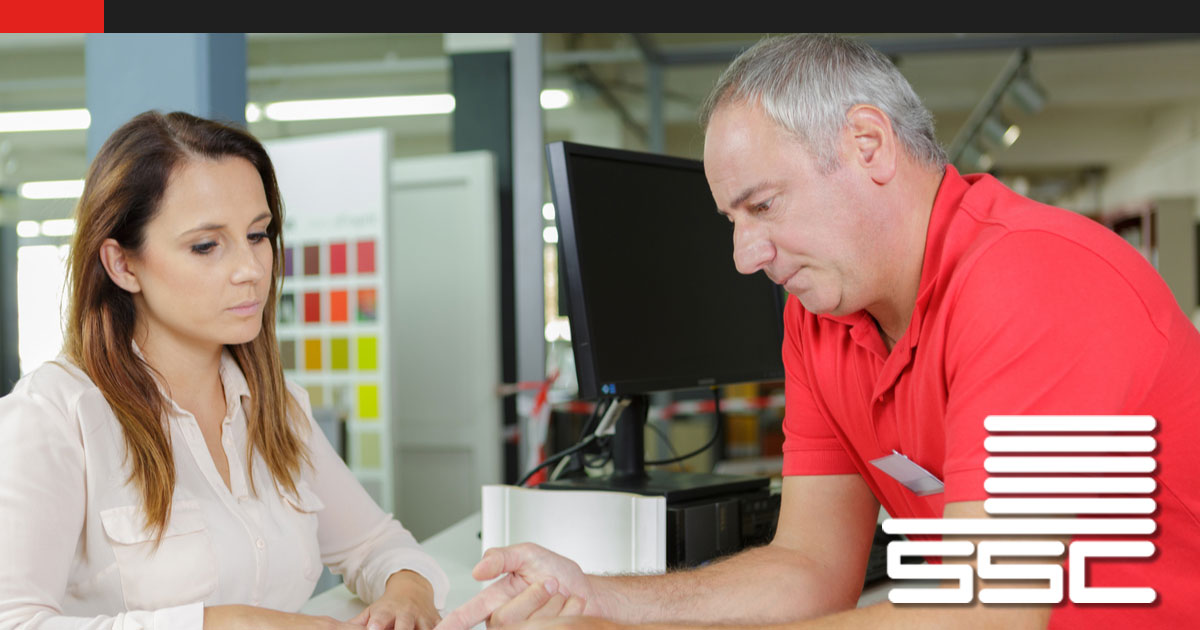 Unhappy customers…we have all dealt with them at some point in our life from working in retail, food, hospitality and service industries. The challenge is how do we best deal with the situation and customer. In the garage door industry, dealers and installers work with homeowners and businesses everyday who may become unhappy for a variety of reasons.
Here at SSC we take pride in our sales and customer service team for the exceptional care we provide to our customers. We want to help you with some tips for dealing with that unhappy customer. There are 3 simple steps to take when dealing with an unhappy customer
STEP 1: UNDERSTANDING THE SITUATION
The first thing you want to do is to ensure you understand the entire situation and complete story. Here are a few things you can do to help you in that.
Address them by their name. It shows them you care, and it makes the conversation feel more personal.
Be mindful of the tone in your voice. Remain cool and talk calmly as this will help to calm them down.
Be polite when responding to the customer. Use words like 'please', 'thank you' and 'sir' or 'ma'am'.
Ask them to tell the whole story from the beginning. When listening listen with intent. When they finish recap what you believe the problem is.
Minimize the amount of times they have to tell their story. If the issue is something you are unable to resolve and a manager is needed to give the customer options for getting their answer, ask them if they would like to wait on hold or if they would like you to call them back with the solution.
Check with them throughout the process. If they are waiting on a response to their issue from a manager or something else, be sure to check-in with them on where you are at in the process and working on a solution for them.
STEP 2: ADDRESSING THE SITUATION
Next step in the process is addressing the situation for the customer. Below are some tips to help you.
Don't play the blame game. No matter who is to blame. Be careful with your wording and remember to be polite and address them by name when able.
Start with an apology. Apologize for the issue or situation from the start.
Determine action needed to smooth things over. What option you choose depends on the situation and severity. Some options include: no charge for product or service, return money back, replace or fix the problem at no charge, or providing a discount.
Ask for a picture of the problem. Ask if the technician can send you a picture of the problem. Be sure to let them know it is for quality and training purposes not to place blame. A picture provides a visual element to help confirm that you are addressing the correct issue.
Extend the conversation to a manager. If the customer is still unhappy after you have had a conversation with them and offered solutions, connect them with a manager for further assistance.
STEP 3: FINALIZING THE CONVERSATION
After you have understood the situation and address it with a solution, it is important to recap the conversation with the customer.
Review the situation. Remind them of the solution and confirm they are happy with the outcome and happy with how it was handled.
Opportunity to up-sell. Especially if you are providing free, new or replacement parts, use this opportunity to see if there is anything else they need.
Place the order immediately. Once you know everything they need, be sure to place the order immediately to have it shipped as soon as possible.
Apologize again. Be sure to apologize for the inconvenience and thank them for being a customer and their business.
Provide them with your direct contact info. When wrapping up, be sure to provide them with a business card or write down your name and direct contact information. Remind them if they have any additional questions later or other issues that they can contact you directly.
Following the above steps will help provide you with the confidence you need when helping an unhappy customer. If there are other customer service skills you desire or would like to teach your technicians, be sure to check out our full Solutions Education library where we offer additional customer service lessons and other topics designed for the garage door dealer and installer.