How to Easily Setup Google Analytics on Your Website in 3 Steps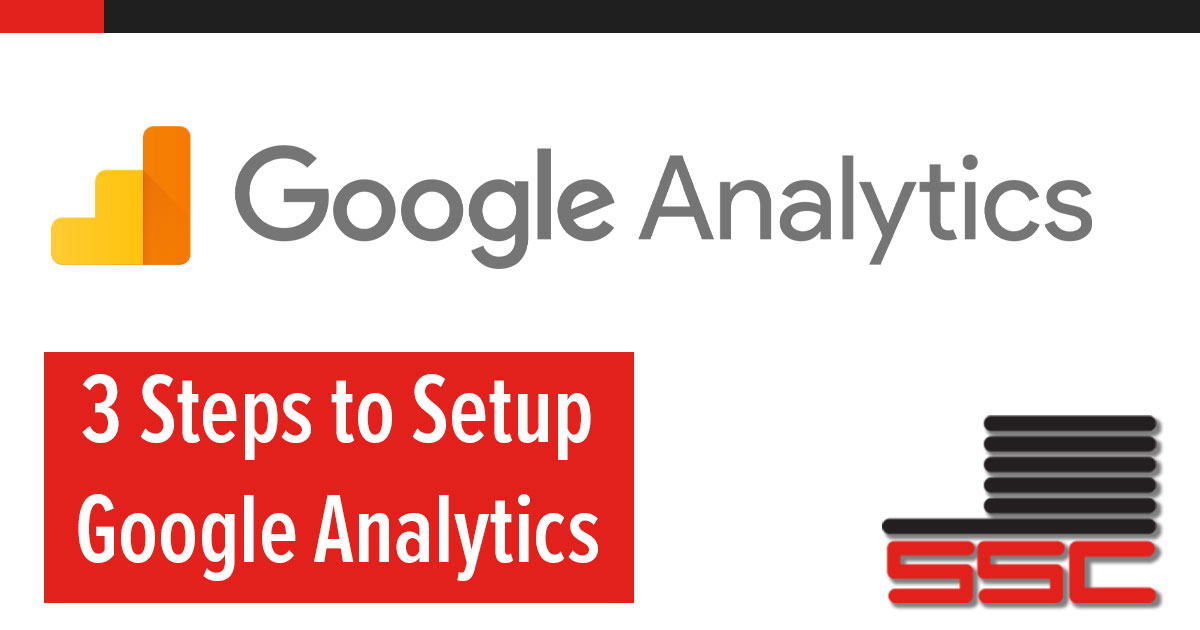 Google Analytics is an invaluable tool for your business. It allows you to discover many things about your site and the visitors to it.
Who is visiting your site and from where?
What are they viewing and interacting with?
How did they get to your site?
And much…much more…
In this guide, we will walk through 3 steps to setting up Google Analytics (GA) on your Website. This setup will work on multiple types of websites from custom-built to WordPress.
PRO TIP: YOU WILL NEED TO HAVE A GOOGLE ACCOUNT TO ACCESS AND SET UP THE FIRST TWO STEPS BELOW.
STEP 1 – SETUP GOOGLE TAG MANAGER
The first thing you will want to do is create a Google Tag Manager (GTM) account.
Next, you will want to create a container in GTM. This container will house all your rules, tags and other parameters for your website. (See the image below for how the setup should look and what you should be selected).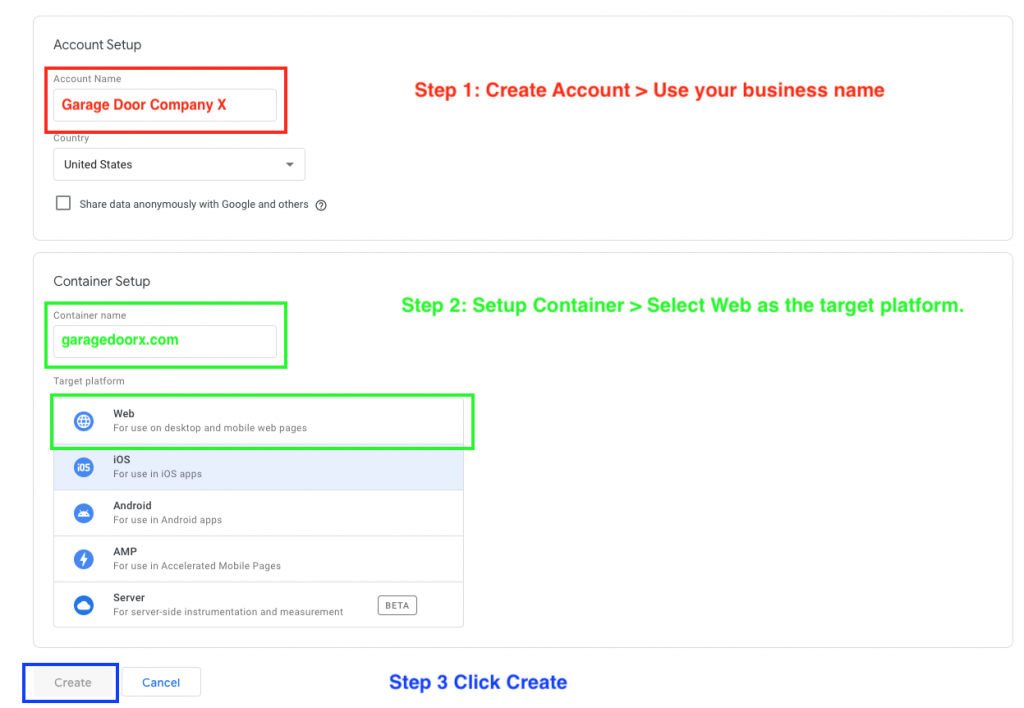 Select where your container will be used (select website).
Once you click "Create" and accept Terms of Service your workspace will load, and the code needed to install your tag manage will popup.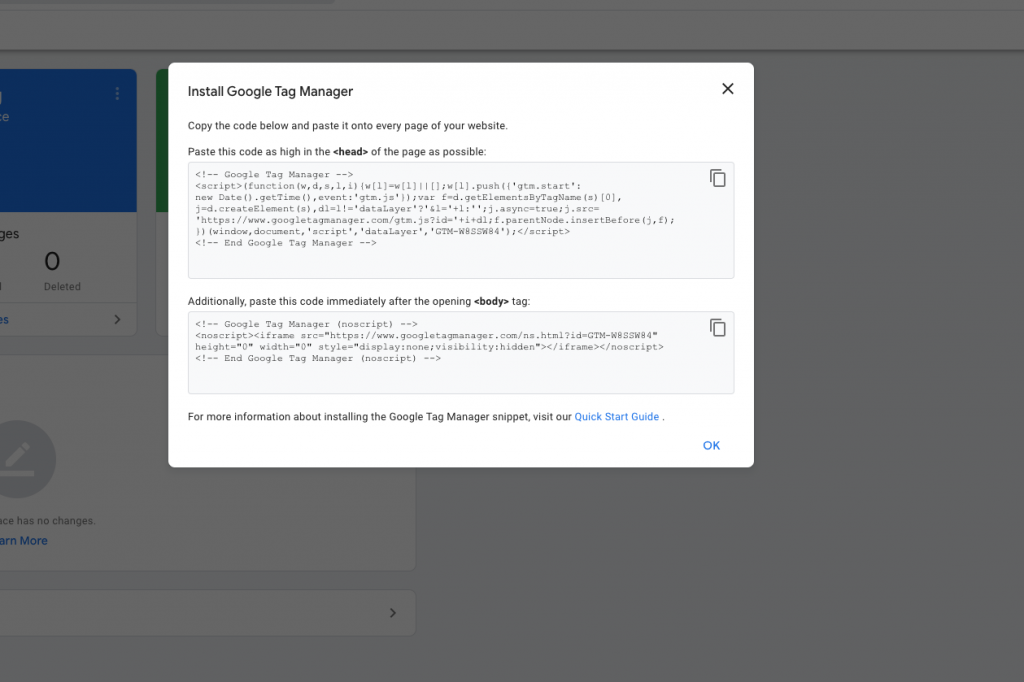 Code Popup Window
For installing the code, you have a couple of options. If your website is built using WordPress you can use a plugin for updating the header and footer code. Just search Insert Header and Footer in the plugins for WordPress. Select "Install Now" for the Insert Headers and Footers plugin. Here is a recommended plugin.
Navigate to the plugin and insert the code from GTM in the header box.
If using something other than WordPress, you will want to contact your website developer or I.T. to add the code. You can also search on the web as there are multiple how-to videos for installing this code on multiple website platforms.
STEP 2 – SETUP GOOGLE ANALYTICS
First, you will want to create a GA account if you do not already have one.
Name your account – this would typically be your business name.
Property Name – this would be your website name or URL.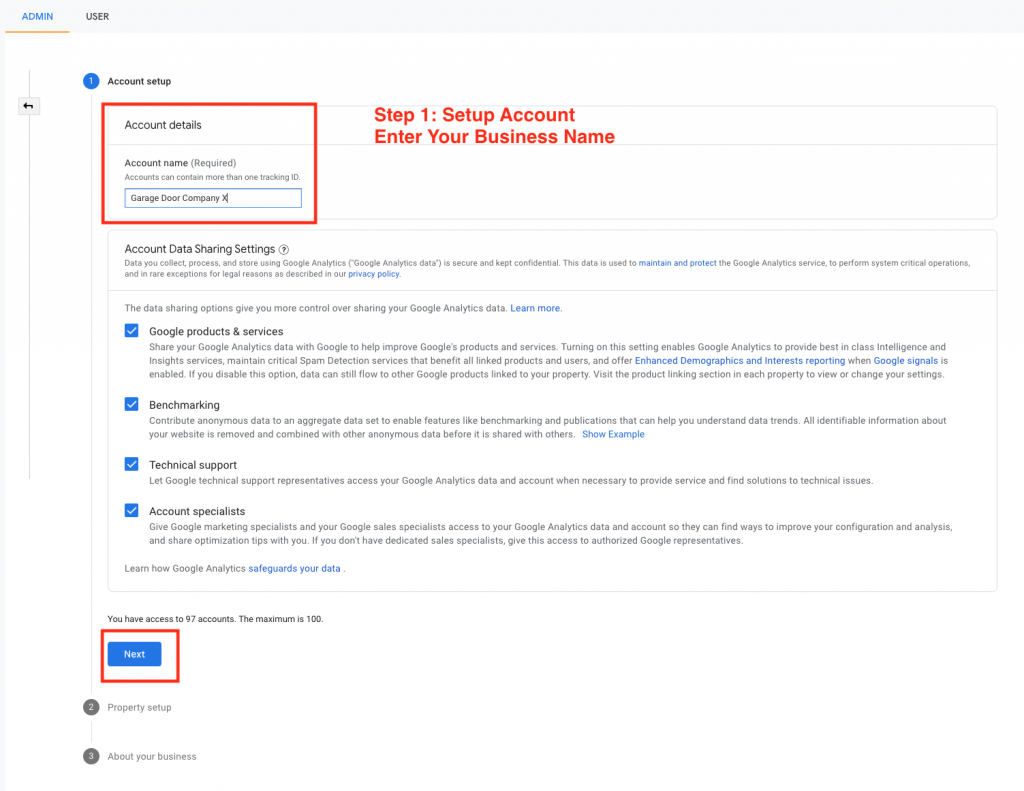 Step 1 – Setup Google Analytics Account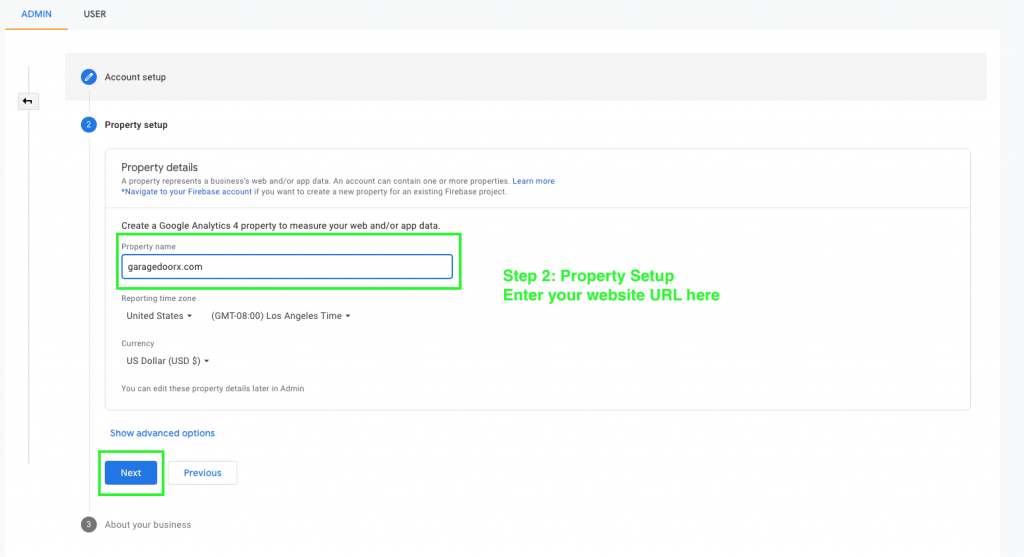 Step 2 – Google Analytics Property Setup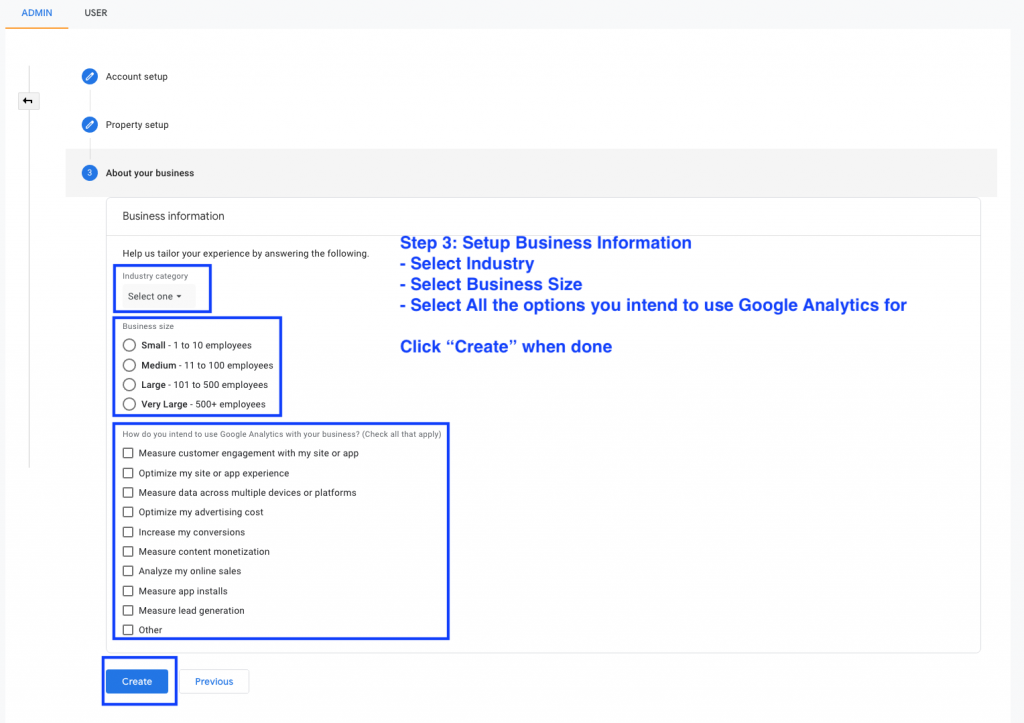 Step 3 – Business information
STEP 3 – SETUP GOOGLE ANALYTICS IN TAG MANAGER
Return to GTM dashboard and click "Add a new tag"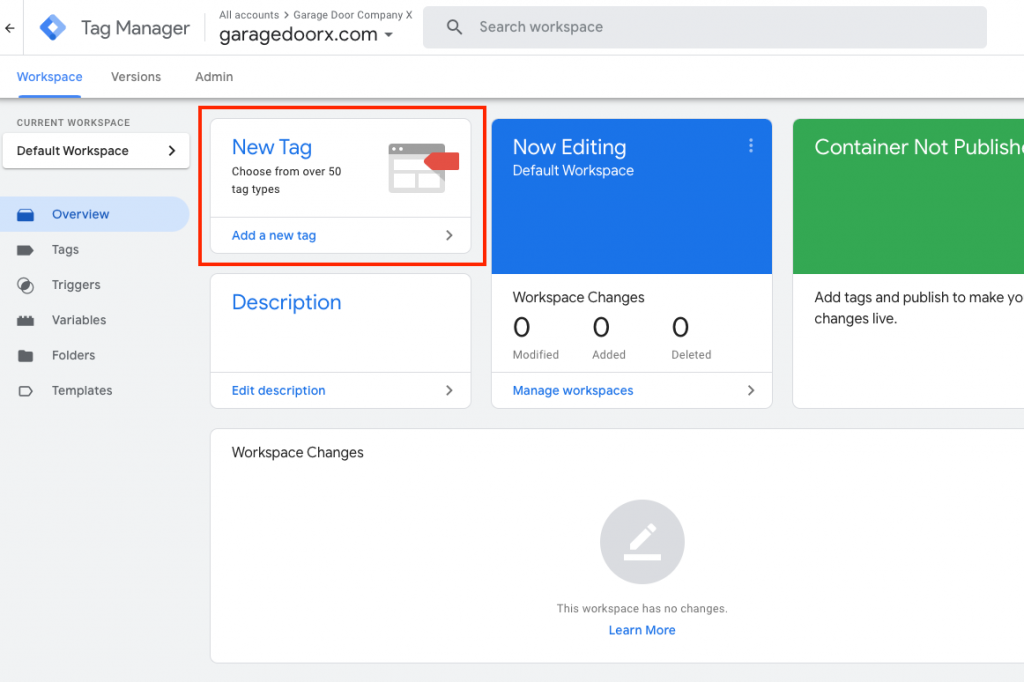 Google Tag Manager Dashboard
Name the tag something you will understand.
PRO TIP: DETERMINE A STANDARD NAMING CONVENTION YOU WILL USE FOR TAGS. YOU MAY DISCOVER OVER TIME USING GTM MORE. (EXAMPLE: IF IT IS A TAG FOR GOOGLE ANALYTICS USE SOMETHING LIKE "GA – TAG NAME")
Select Google Anlaytics: GA4 Configuration.

TAG CONFIGURATION
Next, we will go over the tag configuration.
Locate your tracking ID. Should be formatted like this (Measurement ID Format: G-XXXX). See below for how to locate in your Google Analytics.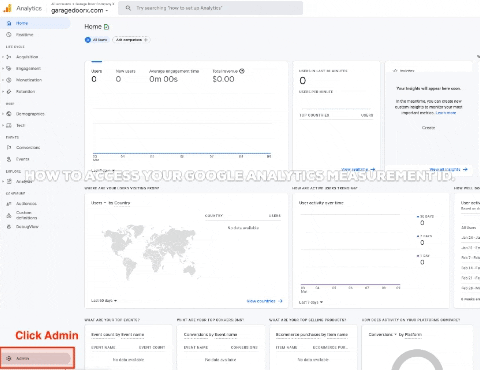 How to locate and copy your Google Analytics ID
Copy the ID and return to GTM.
Paste that code into the Tracking ID box.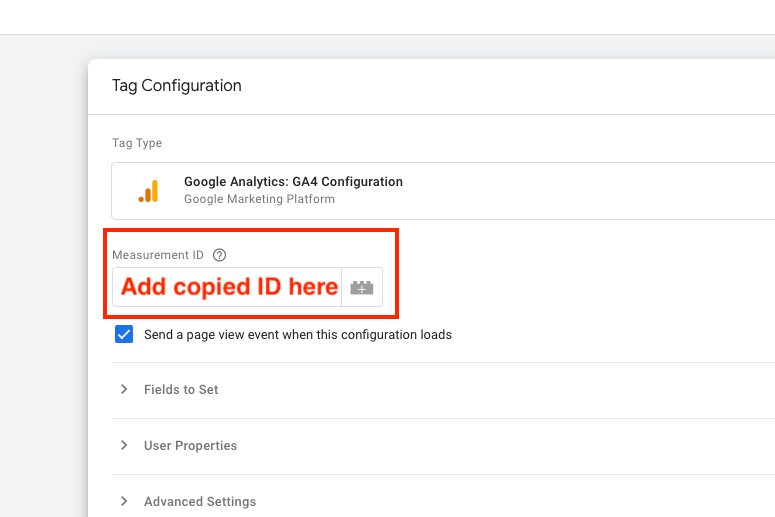 Next, we will set the trigger for All Pages.
Click the Trigger Box
Select All Pages
Your finished tag should look like the image below.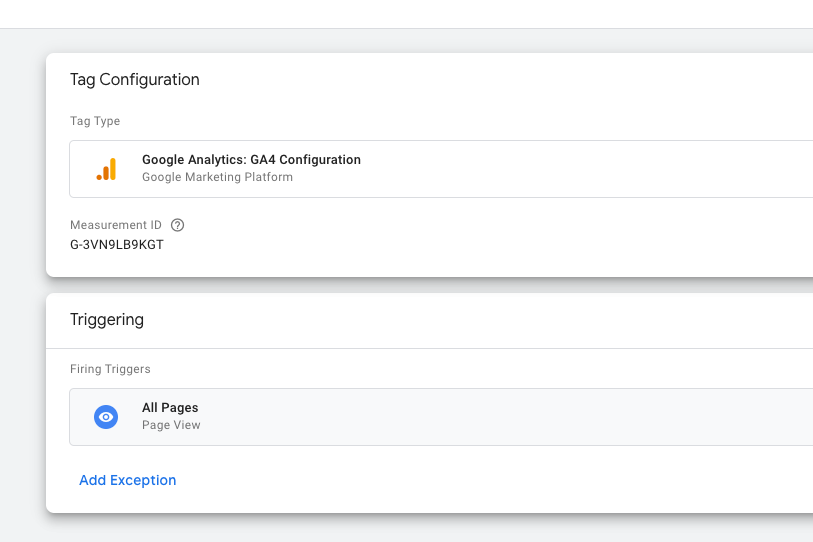 Save your tag. Once saved you will need to submit your updates to be pushed live. Once that is complete your website will begin to send data to Google Analytics.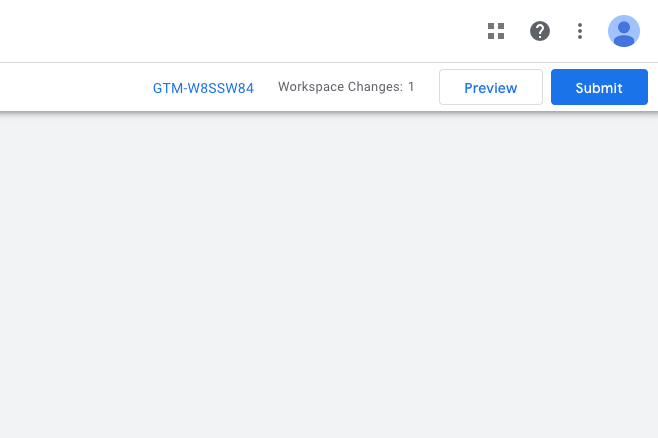 Submit your completed tag to be published in the top right corner.
Other things to consider:
We hope you found this guide to be helpful and informative. Be sure to check out our other articles and guides on our website.