Do You Have the Right Opener For the Job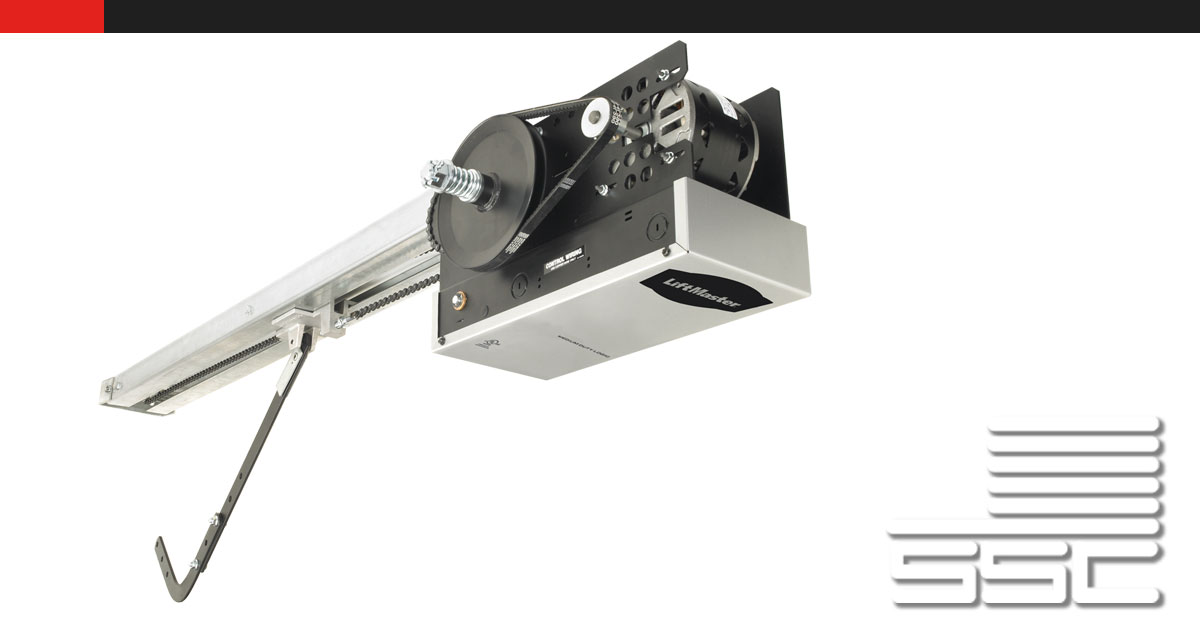 Garage door dealers experience a common problem when they get to a job site to install a commercial opener. Is this opener the correct opener for the job I am about to complete?
Our hope is that this guide will help you to better understand, determine and configure commercial openers for any commercial garage door. We are confident that this guide will allow you to provide better service and value to your customers by providing the correct opener for your customer's needs.
Let's begin, Configuring a commercial opener.
There are many factors to consider as you determine the correct commercial opener for your garage door installation or replacement. We will go through each factor below in detail.
Understand the different types of commercial overhead door openers and manufactures.
You will need to collect the following information in order to configure the correct opener for your application.
Review the tracking and counterbalance of the door to determine type of opener needed.
Measure square foot of door to determine power needed.
Determine the usage of the overhead door.
Know the voltage and phase available at the site and what else is required for the opener.
Ask questions to help determine if any special features are needed.
Different Types of Commercial Openers
Before you get started, be sure to understand and know the specifications for the different types of openers and the differences between manufactures. There are light duty, medium duty and industrial duty openers. Each of these openers have different specs and for cycles per day, voltage needs and other details. The more information you have before you sell the job will lead to a better product and a happy customer.
Once you know the types of operators available, you need to understand the type of door that it will be installed on.  There are two basic types of openers: Trolley and Jackshaft. Trolley openers use a chain drive system on rail where the opener will pull or push an arm attached to the garage door to open and close the door. These types of openers will only work on a Standard Lift door.  Jackshaft openers mount to the wall next to the door and attach directly to the torsion assembly via a sprocket on the door shaft. The action will turn the counterbalance assembly to open and close the door.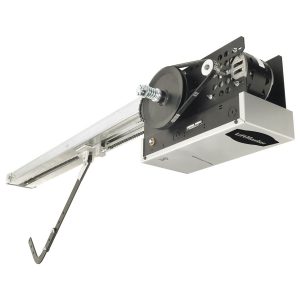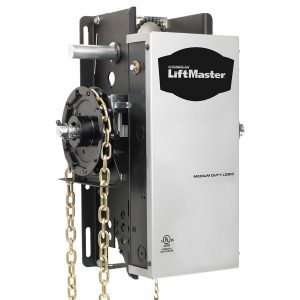 Determining Overhead Door Specifications
Once you determine the style of the opener, the next step is to determine what type of power you will need to lift the door. Measure the door opening width and height and then multiple those two numbers to get the total door square footage.  With this information we can use the Door square foot reference chart (see chart below) to help us narrow down the best openers to use. The chart based on the SF and the type of door (which you will need to know will tell us what horsepower (HP) opener we will need to use.
Determine Usage of Garage Door
We recommend talking to your job site contact and asking them key questions such as, how many times a day will the door be used by employees and/or customers? Then take the average days usage and multiple that by the number of days the location is open for the year. This will provide you with an estimate of the number of cycles the opener will need to be able to handle and allow you to narrow your choice even further. To break this down further to cycles per hour you will take Number of Cycles per Day / Hours of operation = Cycles Per Hour. This will allow you to determine what type of duty opener you will need.
Number of Cycles per Day / Hours of operation = Cycles Per Hour.
With this information, reference the openers model document to see where you fit. You will cross reference the cycles per hour with the type of track. When looking at the document keep in mind that the T=Trolley and J & H = Jackshaft.
Know What Voltage and Phase are Available
Once you have determined the correct opener for the door you will want to review the type of power supply available. If you are replacing an existing unit, you can gather this information from that machine or ask the on-site contact for that information.  Be sure to discuss what additional needs they may need. The more experienced you become with the openers you install, the more opportunities there will be for you to upsell. Products like extra wall stations, remotes, automatic actuators, and safety devices will add more dollars to the end sale and provide a complete installation. Before you leave the job site, be sure the new installation meets all the UL 325 safety standards (You can find them here as DASMA.com).
Additional Tip
There will be times you will reference an existing opener or quote with an existing model number. For example, let's look at the LiftMaster T5011L4 model number and break down what it means.
·     T = Type of Opener in this case Trolley
·     50 = ½ HP
·     1 = Voltage of 110
·     1 = Single-Phase
·     L4 = Type of Logic or Control Board
Safety Disclaimer: In order to see all procedures completely, there may be safety measures that are not taken by our actors. Be sure to follow any and all proper safety requirements and refer to your manufacturer's installation manual for details. Your health and safety is the #1 concern. Failure to understand/follow the recommendations in the course could result in property damage, personal injury or death. While all efforts are made to provide accurate information and guidance, it is impossible to predict all door circumstances. Accordingly, the user agrees that the user of this video; products and information contained herein are at your own risk. In no event shall Service Spring be liable for any property damage, personal injury/death, or any other loss or damage that may result from your use of the information and products provided on this video. All information contained within this site is provided "as-is" without warranty expressed or implied. User assumes all responsibility/risk for use of information and products purchased. If you have any doubts about your ability to perform the work safely, we recommend you contact another door professional to complete your repair.